Page name:
Crocodile Hunter
[Exported view]
[RSS]
2007-04-04 11:58:36
| | | |
| --- | --- | --- |
| # of watchers: 39 | Fans: 0 | D20: 16 |
In Tribute to Steve Irwin;
our beloved Crocodile Hunter.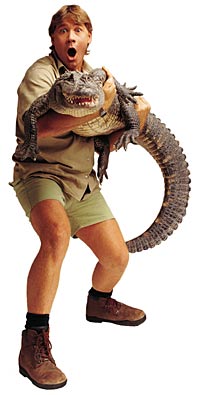 Steve Irwin, the well known Crocodile Hunter, died after being stung by a stingray, while filming for a new documentary. The toxic barb of the stingray was said to have pierced his heart. He died after removing the barb from his chest. By the time help arrived, he had already passed on. Ultimately, he died doing what he loved best.
Link to the CBC news story:
http://www.cbc.ca/story/world/national/2006/09/04/irwin-obit.html
Link to wikipedia:
http://en.wikipedia.org/wiki/Steve_Irwin#Death
Link to American/Canad
ian Guestbook for sending condolences: http://www.legacy.com/can-montreal/GB/GuestbookView.aspx?PersonId=19127166




This wiki is here as a tribute to Steve Irwin and everything he stood for.

"He was a wonderful character. He was a passionate environmentalist. He brought joy and entertainment and excitement to millions of people." - Australian Prime Minister John Howard

"If there's anything I want to be remembered for, it's my Passion, and Enthusiasm" - Steve Irwin. (posted by [Shishiru])

Steve Irwin will be sorely missed by his fans around the globe.



(Turtle by [pixish])



For everyone who has MSN; Please place a turtle icon beside your screen name in tribute to our Crocodile Hunter. (The icon's shortcut is (tu) )
On Elftown you can use [Ocean Soul]'s moodicon:


Vist this link http://www.elftown.com/upload_mood_image.html?n=1154172702 and place the image tag in there. It's the only way to get the image in your mood.

Other Australian themed icons:

and
and


[Viking]:
Steve Irwin showing his lighter side for an ESPN commercial:
http://www.albertbanks.com/2006/04/03/albert-the-alligator-espn-commercial/

BTW, that big fuzzy alligator is the mascot for the University of Florida's sports teams.

[Faulty Limerence] has made another wiki page where everyone is free to go and write down their comments. Tribute to Steve Irwin is the link.




Sign your name after a number if you wish to honor his memory.
Please sign only your name (no comments after it) to prevent cluttering the wiki.
Support Steve in the "comments" area of the page.

1. [Byne]
2. [black christmas]
3. [Duredhel]
4. [Kat.]
5. [Ramirez]
6. [Erubeus]
7. [Calico Tiger]
8. [Sunrose]
9. [spincrus]
10. [Yuriona]
11. [SilverBlue82]
12. [Q_Q]
13. [crikey o'reilly]
14. [Mom]
15. [Shishiru]
16. [Cassave]
17. [Zab]
18. [shotokan_gal]
19. [Teufelsweib]
20. [sequeena_rae]
21. [Blue Highway]
22. [~Lady Morgana~]
23. [Viking]
24. [Indigo21]
25. [Delladreing]
26. [Elegy - gone]
27. [Vou]
28. [Dint]
29. [Schob]
30. [moira hawthorne]
31. Teija - A non ET member who wished to join this.
32. [Gav.]
33. [Demon Epona]
34. [stephie k]
35. [XxTsomexX]
36. [Saray]
37. [Toffeejalapenos]
38. [Kuramasgirl]
39. [earthkynd]
40. [Fearathress]
41. [Kileaiya]
42. [Thistlewood]
43. [Ilana]
44. [Kelaria]
45. [Ghost the Hybrid]
46. [Cia_mar]
47. [Don't Fall For This]
48. [Deadly Whispers]
49. [DarkRedKrueger]
50. [Yami]
51. [Aikon I]
52. [Atayemi]
53. [NuclearHobbit]
54. [Moving on in Life]
55. [Linn Scarlett]
56. [Azuri]
57. [hannes]
58. [Herger the Joyous]
59. [Rook]
60. [The sun keeps fading away.]
61. [EmeraldGrizzly]
62. [banu]
63. [Rock Thine World]
64. [Paul Doyle]
65. [Piercedskull]
66. [pixish]
67. [Tony Stark]
68. [Trennas]
69. [Forever Equine]
70. [irulan]
71. [*The Blonde Girl*]
72. [*(.Randi.)*]
73. [ironboundtreo]
74. [Dark Shiva]
75. [jsun]
76. [hollow heart]
77. [CherryBlonde]
78. [Rochala]
79. [Jitter]
80. [shirono]







Contribute fanart here, in memory of Steve Irwin, if you wish;



By [Blue Highway]

By [Angelis Nightfall]
Do not put the following images on your house: Putting photo's of celebrities on your house is in violation with the Uploading Art Rules.

By [~Lady Morgana~]

By [moira hawthorne]
---
Please read!


This wiki is here as a tribute to Steve Irwin, not a place for people to start fights, be rude, unrespectful...It is asked that if you are going to be commenting here that you are respectful, your language contains no swearing or degrading comments, and that you're not trying to start fights, tell other people what they will or should think OR draw negative attention towards yourself. Don't be petty!

---
| | |
| --- | --- |
| | Show these comments on your site |