Human Heart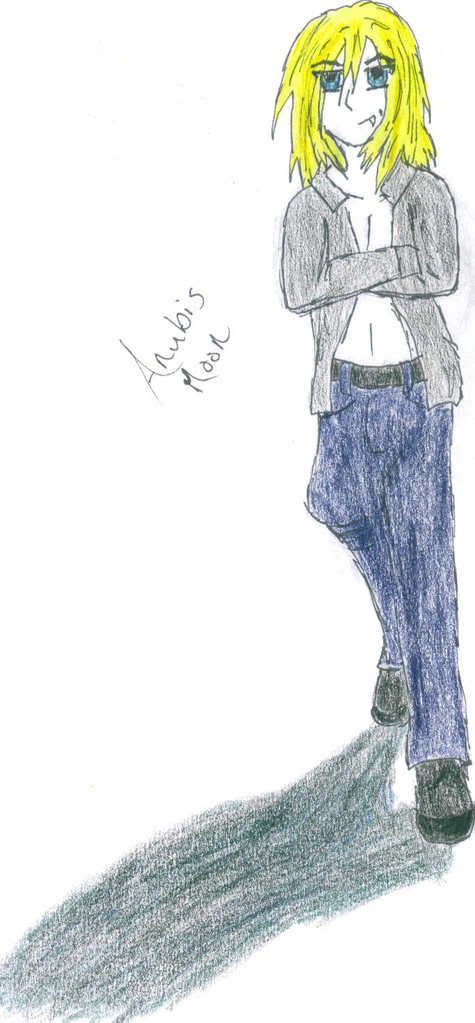 Scroll 01: The Stroll
Anubis grinned as he stepped into the sunlight. Unlike his father and mother, he didn't need to wear a sun stone cloth to remain outside during the day. There was a legend behind that mystic black cloth. A fire-conjuring vampire supposedly spins bolts of black cloth in the blood of humans he's slain for trespassing. After the cloth spends three days soaking in blood, the fire-conjurer dyes the cloth. When that process is finished, he dries it out with the flames he creates. He then supposedly shows up and gives it to vampires who are being scorched by the sun's unrelenting rays. Anubis hardly believed such a tale.
They had always told him that his immunity to the sun is because he was conceived by two vampires instead of being bitten by a vampire. He was never sure whether or not to believe that because the world of vampires was full of mystery, and his parents as far as he had speculated, were trying to protect him from two different worlds—neither of them did he truly belong in.
Anubis brushed his stray golden hairs from his face as he trotted through the woods. His mind was always wondering and observing the beauties of nature had always been a pastime of his that could slow his erratic mind. He loved the outdoors more than anything, and even though he understood his parents' undying love for one another, he couldn't understand being in the villa all of the time. They barely left, except to get groceries and that was the most perplexing thing. If he hadn't read otherwise he could swear that himself, his mother and father were the only people in existence.
"Wow, it's beautiful out," Anubis commented. He watched the colorful birds flying around and searching for worms in the top soil as well as the rabbits and other rodents hiding among the brush and bushes. He began to whistle a tune that he remembered his parents liking. They considered it their love song since that was the song that had been playing when his father had proposed to her seventeen years ago at his grandparents' vow renewal. It was a song about regret, and although his parents never really gave him specifics about their past, he knew that his mother was testing his father by leaving him, and hoping he'd come to her.
"I wonder what love feels like," Anubis muttered. "I mean, I see my parents being affectionate every day, but that doesn't explain what it means to love," Anubis shook his head. "Maybe I think too much. I'm only sixteen." He tried to envision being attracted to a woman as his father was attracted to his mother. They were like giddy school children at times with how gaudy their affection could get. For Pete's sake: His father still tried to look sexy for his mother!
The young vampire shook that thought from his mind. Sometimes he gave himself too much information without the intervention of his parents. Anubis sniffed the air, "What is that?" He stopped walking and inhaled deeply. "It smells delicious..." he licked his lips. He leapt into a tree and waited. Was it instinct that had caused him to do that? He watched a human girl stroll along the path that he was just walking. She looked so care-free. That was intriguing.
Anubis cocked his head curiously to the side, "I've never seen her before." He landed on his feet with ease, and in near silence. He walked behind her, as light as his feet would allow. She was clearly human because a vampire would have sensed him behind her. She smells just good... He sniffed the air behind her. She's what I smelled earlier... he realized.
Anubis followed her into the woods even farther than he had ventured before. Either he was stealthy or she was blissfully ignorant as she walked a few hundred yards further. She sat on a rock and never once acknowledged his presence. He smelled the air behind her again, What is happening? I've never felt like this before... The girl readjusted herself, shifting her weight and fixing the wrinkles her clothing, finally adjusting the part in her hair. What was she doing? Was she trying to get killed? She sent her smell wafting back to the attractive vampire.
The smell was nothing at first, and then it hit him. He couldn't resist it. Anubis bared his fangs and sprung on her. She screamed in agony and defensively threw her hands up over her face. Her move left her neck open and defenseless. Without missing a beat Anubis snarled as his fangs pierced her jugular vein, and she struggled to no avail against Anubis' inhuman strength.
Her hands were pinned down to her chest with Anubis' deadweight holding her helplessly on the rock. As the blood hit his tongue he felt a dark satisfaction being fed. He was hypnotized by the smell and the taste of her blood. He had never tasted human blood before her.
She cringed as she finally felt what was happening. He wasn't taking advantage of her, he was killing her. She started to fade away with the significant loss of blood. He closed his eyes and moaned, savoring the taste as he caressed his taste buds. After a long while his eyes flashed open and he licked her wound for any last droplets. He watched her fall lifelessly onto the rock that she had been sitting on before her death.
Anubis' blue-green eyes widened in horror as he backed away from her, "What have I done?" He gasped. He was sobbing when he saw the blood on his hands. He darted toward the water that he heard moving and stared at his bloody reflection. "I'm a monster! Only a monster good have done this to that innocent girl..." Anubis muttered.
He closed his eyes and darted back to the manor. "What am I going to do?" Anubis' tears fall as he ran through the brush on the ground. He ignored all of the beauty of nature that he had been admiring when he first left the house. He was sobbing by the time he the door. Quickly entering the house, sobbing and huffing he closed the door behind himself and collapsed against it. "Mother! Father!" he cried in horror.
"What is it?" Naoko stepped from the kitchen and stared at her son. She took one look at the blood and understood everything, "Vicente!" Naoko called her husband.
A few seconds later Vicente emerged from the basement. "What is it, honey?" Vicente asked. He followed Naoko's line of sight and stared at his son for a moment before approaching him.
Anubis was sobbing heavily as Vicente knelt down beside his spitting image. He pulled his terrified son against his chest and embraced him tightly. "Father, I'm a monster..."
Vicente shook his head, "You're a vampire."
Naoko joined her husband and son and was caressing Anubis' hair, "You did what your instincts told you to do. That is only natural," her tone was both understanding and loving.
"That's what animals do," Anubis cried, trying not to sob.
"And humans as well as vampires are animals with instincts," Vicente replied. "Vampires just succumb to their natural selves more than humans."
"I committed murder..." Anubis whispered.
"No, murder requires a murderous intent and a vicious will. You were feeding. You just went too far. You didn't know to stop," Vicente explained, half-regrettin
g not giving his son any knowledge into his vampyric heritage. "And you're too gentle to have a vicious will."

"And it felt good. It felt so...right..." Anubis admitted, trying to forget the sweet taste of the blood in his mouth. The warm liquid felt fantastic as he drank it and felt it moving from her vein into his mouth. He shook that thought off quickly, trying to remain civilized.
"That makes me a worse person for not feeling bad about it tasting and feeling good," Anubis whimpered, flinching as he remembered the sights and sounds. Each movement replayed in his mind, a horrific reminder to the boy. Having never fed before Anubis had moved expertly with deadly accuracy just instinctively knowing exactly how to feed and how to render his prey helpless.

"No, it makes you a more natural vampire," Naoko kissed her son's forehead. "Just calm down and clean yourself up." Naoko knew this day would come and hoped that her son would be more open about it than he had proven to be. His understanding of what he is would make teaching him how to feed so much easier.

<
---
Human Heart 2