Page name:
Dancing with The Doppelganger
[Exported view]
[RSS]
2006-11-09 18:19:29
| | | |
| --- | --- | --- |
| # of watchers: 3 | Fans: 0 | D20: 20 |
Dancing with The Doppelganger
Here she is, the Royal Secret Agent, Queen Qaab's Keeper.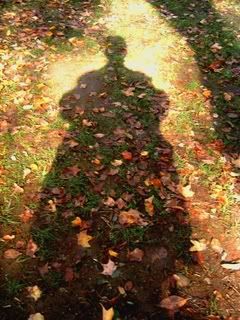 Title: Shadow Finds Her Inner Voice
Artist: Shirley A. Lake
Size: 9" X 12"
Date Signed: October 20, 2006
Medium: Watercolor
Paper: Cold-pressed, Acid-free, 90 lb.

Artist's Statement
"Shadow Finds Her Inner Voice" is Queen Qaab's recollection of a moment that stopped her in her tracks while she was walking toward the Stagecoach Inn Tent at the 2006 Geraldine R. Dodge Poetry Festival at Waterloo Village in Stanhope, New Jersey. She'd been headed for a panel discussion called, "Finding Poetry's Inner Music, Saying the Unsayable," when she noticed her shadow on the autumn path before her. QQ has been a poet for many years. This, her first watercolor painting, is a self-portrait.
The Queen picked up some watercolor painting techniques from this website:
http://painting.about.com/od/watercolourpainting/
QQ plans to try this again.
---
| | |
| --- | --- |
| | Show these comments on your site |