Page name:
Chrysilla Portfolio 2
[Exported view]
[RSS]
2009-01-25 15:26:32
| | | |
| --- | --- | --- |
| # of watchers: 8 | Fans: 0 | D20: 11 |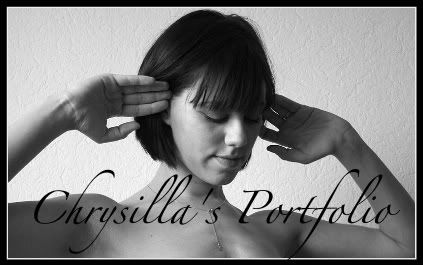 Week 1 : Wild
Week 2 : Dark Fairytales
Not a sound was to be heard, nothing moved except for the clocks, but when they too ran down, they stopped, and time stopped with them. Not even the faintest rustle was to be heard, only the wind whistling round the turrets, not a single voice, only the cry of birds. The years sped past. In the castle grounds, the trees grew tall. The bushes became thick and straggling, the grass invaded the courtyards and the creepers spread up the walls. In a hundred years, a dense forest grew up.
Week 3 : Paradise
Week 4 : Flower Vase
Week 5 : Natural
Week 6 : Gaelic mythology
Caer Ibormeith
Week 7 : Masks
Week 8 : Season
Week 9 : Roots
Week 10 : Secret
My own theme 1: - Jealousy
When Ann arrived at the Court, she had no idea what effect her appearence would make. She was different, she was special, she brought colour into the Court's life, and all the men fell at her feet.
Notice the jealous queens gossiping in the background :D
My own theme 2: - Food for your mind
Go to Portfolio Contest
Go to Photo Portfolio
Go to [Chrysilla]'s House
---
| | |
| --- | --- |
| | Show these comments on your site |