Twice as loud as heaven
Half as cold as reason
Warning: I will NOT answer to messages if you did not at least attempt to spell things correctly. I will also not answer to stupid messages that have no point unless we are already talking consistently. This may seem rude, but I'm tired of being messaged by people who are too lazy to learn to spell.
You don't want to know because you don't know. but if you trully knew, you'd have wondered why you didn't want to know, it's funny that way, isn't it?
I really like this one... It took me like, at least two hours, so I'm quite proud of it. If you don't like it, well, you're probably more intelligent than I am. :)
Piccys of me in [
13BlackRoses
]'s house, please don't look. I'm not good looking, but at least I'm warning you! :)Also, since my images were recently were massacred by the guards, they will be in my art wiki
Alkabong8888's PhotoManipulations
(Image deleted by the guards)
www.meninhats.com=jesus!
(Image deleted by the guards)
It's all just getting started. There is no end, there is no begging. There is no time. There isn't anything. We're just figments of our own imagination. Morals? No such thing. It all depends on how you look at it. Existence? It's a lie, particles only exist for a split second. What we see is nothing compared to reality. Remember that.
:D
"Some may call me a Buddhist, some may call me Atheist, some may call me a Christian, some may call me an anarchist, some may call me an activist, some may call my a pacifist, some may call me radical, some may call me me, some may call me anything. But I know what I am, and it's not me, I'm just another little dot on the map of emptiness that makes up this thirteen dimensional chaotic dance of creation and destruction."-
me?
(Image deleted by the guards)


I don't know, I really dont. I think, I act, I grow. That's all I am. I have strong "thoughts" and I'm always thinking about something. If you wish to hear some of my thoughts (if you dare!), message me.
I'm really into the bands A Perfect Circle, Nine Inch Nails, Tool, Incubus, and many many more. I just try to see music as another growing experience. I recommend you read the magazine "What is Enlightenment?" Or "WIE".
Look it up on google, why don't you!
I really enjoy talking to people who I get a long with, which I try to with everyone, but sometimes conflict has to be involved to cause a solution. I also like to talk to people who I disagree with, debate is always fun!
But please don't talk to me if you're a very indifferent person. I like people who think, and think a lot. No steriotypes here, so I won't name any specific groups that I know.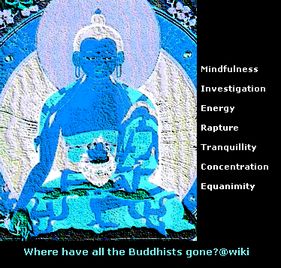 "There is no defenition of right an wrong. One can only look back and see how it affected the grand scheme of things. In the end, there is no right and wrong. It's just atoms, the same atoms, just in different positions."-Muah.
Remember, we all stumble, every one of us. ~Emily Kimbrough
<*IMG:http://www.elftown.com/img/drawing/110200_1131229349.jpg>
Oh, the comfort, the inexpressible comfort of feeling safe with a person, having neither to weigh thoughts nor measure words, but pouring them all out, just as they are, chaff and grain together, certain that a faithful hand will take and sift them, keep what is worth keeping, and with a breath of kindness blow the rest away. ~Dinah Craik








Photoshop I did of [ma vie en rose]


I got rid of all my poetry except one.
Heaven.....

Can you describe heaven in one word?
I can do it
Her
Thats all i need
Thats all i want
Thats all i could ask for
If i was put apon this earth i know what for
To please her
To worship her
To do as she wishes
Not for sex
Not for money
Not for the extasy of being near her
But, just to look into her eyes
And touch her arm
And run my fingers through her hair
That would be heaven
Her

Hinduism

Take your religion quiz at www.quizfarm.com
Hinduism
92%
Buddhism
83%
Islam
83%
Paganism
83%
Christianity
58%
agnosticism
58%
atheism
50%
Satanism
50%
Judaism
42%



"If it hurts, it isn't love. True love isn't an emotion, a feeling, a thought, it's the essence of what you may call god, or conscience, or thought, or the soul itself. Love isn't subjective, or towards any person at all, although if you're in a week spiritual state you might feel love for only a few people. Many people think that a strong lust, desire, or obsession will equate to love, but it does not. This kind of "love" leaves room for jelousy, hate, sadness, depression, and self-destruction. True love towards a person is pretty much just a numb feeling, ultimate peace, understanding.... truth. Love is truth, love is understanding." -Al Evans, a RAVING IDIOT.


Warmth ||||||||||||||||||||| 66%
Intellect |||||||||||||||||||||||||||| 90%
Emotional Stability ||||||||||||||| 42%
Aggressiveness |||||||||||||||||||||||| 74%
Liveliness |||||||||||||||||||||||||||| 90%
Dutifulness |||||| 18%
Social Assertiveness ||||||||||||||| 42%
Sensitivity |||||||||||||||||||||||| 74%
Paranoia |||||||||||||||||||||||||||| 82%
Abstractness |||||||||||||||||||||||||||| 82%
Introversion |||||||||||||||||| 58%
Anxiety |||||||||||||||||||||||||||| 82%
Openmindedness |||||||||||||||||||||||||||| 90%
Independence |||||||||||||||||| 58%
Perfectionism ||||||||||||||| 50%
Tension ||||||||||||||| 50%