Description:
I like to talk, so message me.
---
My piercings: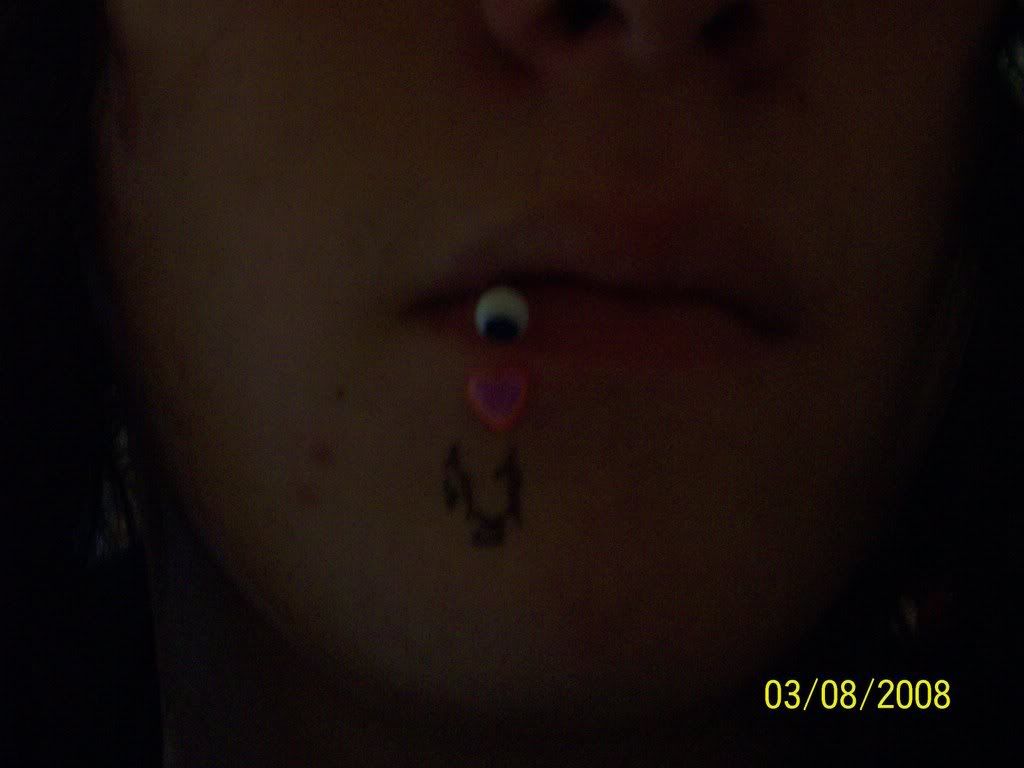 That would be my lip ring!
Nipple madness!!! I've got the other one done, but I figured one pic is enough.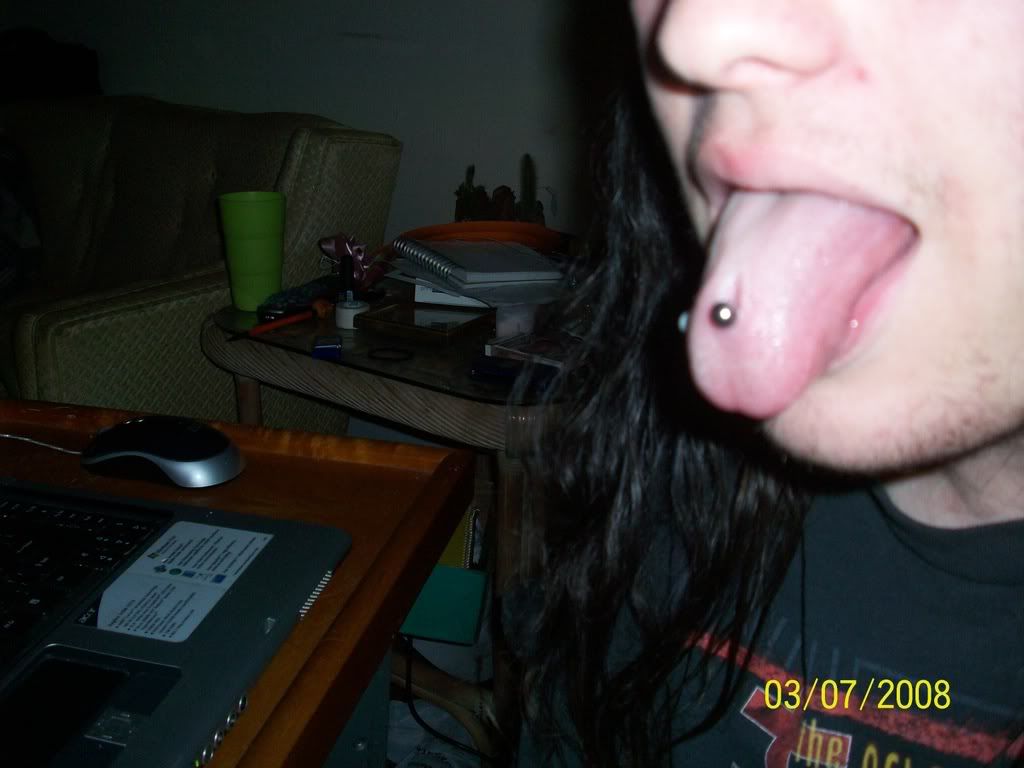 Aaaannnndd, there's my tongue!
---
Badges:
The wikis I am a memeber of can be found on
DWswikilist
---
001: Name: LemminG
002: Nickname: LemminG
003: Country of living: United States
004: Birth date : 3/16/1990
005: Length: 5'8''
006: Eye color: Blue
007: Shoe size : 14
008: School/work: Vicksburg High
009: You smoke: Choclate Phillies!!!
010: Hobby's: Music Music Music!!! Besides that, I draw, read, watch movies, hang out with friends, and chill with Sarah.
011: Brothers/Siste
rs: 1 Sister
012: Relationship: Nopers!
013: Piercing(s): My ear, nipples, eyebrow, snakebites, tongue, and a medusa
014: Tattoo: A heart on my left thigh, a star on my right thigh, a medical diagram of a heart right above my left nipple, and PG on mylower right leg.
015: Favorite Country to go to: Norway, gotta love the black metal.
016: Are there people you won't reply to? no
017: Nicest person you met this year: My Beccuh baby.
018: Person you rather not have met this year: Several assholes at my shcool
019: Who would you like to meet: Fuck, there are soo many people who I'd like to meet. Uhh...Marilyn Manson, David Bowie, Criss Angel, shit, can't think right now.
020: Who do you admire most: Marilyn Manson
021: Most sexy person(s): Idk
022: Favorite Pajamas(clothes to sleep in): Nude
023: Favorite Car: A fuckin herse!
024: Favorite Movie(s): Mirrormask
026: Favorite City(s): Liberty, MO
027: Favorite Plush(stuffed animals): A singing dog that my sister gave me for Cristmas.
028: Favorite Aftershave: This wierd Ego crap
029: Favorite Magazine: Guitar Player or Musician's Friend.
030: Favorite sound: Music
031: Favorite TV-series: I don't really watch a lot of tv.
032: Favorite Writer: I like too many writers to have a favorite.
033: Favorite Nickname: LemminG
034: What is on your mousepad: Don't have one.
035: What all is under your bed: Clothes, a notebook, other random assorted shit.
036: Favorite color: Rainbow
037: Favorite Song ever: I like too many songs to have a favorite.
038: Favorite song at this moment: Anything that Infected Mushroom touches
039: Favorite food: Chinese
040: Favorite class in school: Music
041: Favorite drink: Full Throtle: Blue Demon
042: Lucky number: 23 haha
043: What do you think is the greatest thing about yourself: My eyes.
044: What deodorant do you use: Arm and Hammer
045: Favorite shoes: My 7 1/2 inch platform boots!
046: What time do you go to bed on weekdays: Whenever I'm tired.
048: Most romantic moment in your life: Waaay too many to have a most romantic moment, if you really want to know, ask.
049: Most embarassing moment in your life: Haha, you really don't want to know.
050: Would you rather spend your time, inside or outside: Depends on where the concert is at.
051: What do you do in the weekends: Record music, practice with my band, watch movies, hang wit friends.
052: What class on school do you dislike most: It depends on the teacher.
053: Your Breakfast: Sausage
054: What do you really, really dislike to eat: Macoroni and Cheese
055: Pets: 2 cats.
056: Laugh or dream: Laugh, and I can't help it when my guitar player could be a comedian.
057: Serious or funny: Funny
058: Fast or slow: I live my life in the fast lane bitch!
059: You prefer being alone or have a relationship with someone: I honestly don't know yet.
060: Simple or complicated?: Simple
061: Cremate or Buried when you die: I think I'm going to be an organ donor actually...
063: Stay up late or go to bed early: Whenever I'm tired.
064: Light or dark?: More things happen in the dark.
065: Speak or Silence: Speak
066: Tall or small man/woman: A little shorter than me.
067: Newspaper or Television: Radio.
068: Hug or kiss: Kiss
069: Happy or Sad: Happy
070: Life or Death: Life
071: Gig or Disco: Gig
072: Left or Right: Left
073: Sausages on top, or on the side: To the side.
074: Personality or Looks: Both
075: What would you ask God if you could ask him 1 single question: There is no god.
076: You believe in reincarnation: Yes
077: You believe in Aliens: Yes
078: When you die what will be your last words: I'd start singing the most annoying song ever haha.
079: Does true love exist: Yes
080: How many kids would you like to have: None, I've discovered that I hate kids!
081: What is the one thing you can't stand:
Close-minded people.
082: Best feeling: True, full-blown happiness.
083: Worst feeling in the world: Lonliness
085: Are you an emotional person: No, I can stop my feelings when I need to.
084: What are you afraid of: Not making it.
086: Do you ever cry during a movie: No.
087: Your goal in life: To make it as a band.
088: What was the promise you made to yourself at new years eve: That I'd stop popping my knuckles.
089: Favorite art-artist: Roman Dirge.
090: As what animal would you like to reincarnate: A lemming
091: What is the most beautiful part on the male body: Depends on the guy!
092: Most original place to ask your love to marry you: While I'm being arrested haha.
093: What do you think of Elftown: Its a good way to get my band's name out, a lotta rockers here.
094: Is there something you miss about elftown: No
095: Where did you get this question list: Copy, paste.
096: Besides elftown, what do you do most on your PC: Myspace, music, etc.


---

FAMILY!!!!! YES, THERE ARE PEOPLE I PERSONALLY KNOW ON ET!!!!!
[noone]<---pay no attention to this
[tigerpixy] is my beloved sister Haillie.
[by] is one of my best friends in the world. Oh, and he is also my step-brother.

---