This is one of the
Elftown Graphics
made by [
a clockwork orange
].
Now available for FREE download at
www.doylebooks.com
Lyn Perry creator of
Residential Aliens
http://residentialaliens.blogspot.com/
Speculative Fiction from the Seven Stars
presents:
Strange Worlds of Lunacy ~ The Galaxy's Silliest Anthology
has launched!
6x9 glossy trade paperback - looks super slick!
(If we do say so ourselves!)
224 pages containing over 50 shorts, stories, poems, limericks, and illos.
All for the low low price of $12 (plus shipping)
Or $3 for the e-book
Available at:
+ Lyn's Storefront at
http://www.lulu.com/content/2342433
Published by CyberAliens Press
~ An imprint of Cyberwizard Productions
~ Edited by Crystalwizard & Lyn Perry
~ ISBN: 9780979578892
Cover art by Elfwood artist Richard Svensson
http://elfwood.lysator.liu.se/art/l/o/loneanimator/loneanimator.html
Includes my poem "A Leprechaun's Tale"
I am a writer. Supernatural & paranormal stuff mostly. Short stories involving Witches, Ghosts, Vampires & such. Also poems. And I'm working with [
immortal pherian Aviel
] on a novel. Check out the wiki for that at
hannatt - sgd
Light at the Edge of Darkness
is now available from Amazon.com (At least in the USA & UK). This anthology of Biblical Speculative Fiction includes a story of mine called "The Waking of the Dead" (written for Elftown member [
a clockwork orange
]) as well as many other stories from some very talented writers.
Check out my web page if you want to read some of my work.
www.doylebooks.com
For a summary of my stories with links to read them:
www.doylebooks.com/storysummary.html
Feature story on my website: [
Now with sound! Click the audio icon to hear the story.
]
October: "Halloween" (Poem)
November: "I Was There" (Poem)
December: "The Devil's Dance" (Poem)
If you're interested in lending your voice ask me about StorytellersOn
line. It's like Radio Theater and we're having a blast.




What kind of creatures do you like to read about? <poll:53339>."Mythological Creatures" and "Wee Folk" are in a dead heat.




Got any weird stories? Anything unexplainable ever happen to you?

If you like to write, check out my wiki SGD - Scavenger Hunt.
I'm looking for some help.

One more thing: I won't beat you up if all you want to say is "hi".




Here's a link to the poem that was one of five winners for the Halloween Poetry Competition - 2005. SGD - The Headless Horseman

Here's a link to the story that was chosen as the winner of the Elftown Prose Contest. SGD - Time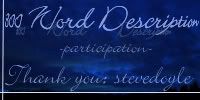 Samples:
The Family Fortune

There's always been a fierce rivalry between myself and my brother
As we were forever trying to curry favor with our mother.
She had become a poor widow since killing Daddy;
A crime she committed to secure a fortune for the family.
(Which would be nicely provided for by his insurance company.)
That his death was a suicide she had everyone convinced.
Unfortunately though, Ma never read the fine print.
Dad's "suicide" was not a covered thing.
Hence no money would be forthcoming.

The next best way to amass a fortune, she believed
Was to teach us the art and skills of thieves.
It's not enough to say we did well.
In my humble opinion, I believe we excelled.
We procured more possessions than we ever thought possible
And only one time did one of us wind up in the hospital.
It was when my brother awoke some old fellow's dog
And in running away tripped over a log
A misfortune for him that was lucky for me
As I had been running just a bit slower than he.

The rivalry that I earlier mentioned
Revolved around this particular profession.
"Who was the better thief?" was a considerable question.
I argued that it mattered not who was more daring
But who returned with the most valuable thing.
On the other hand, it was my brother's belief
That the danger involved measured the thief.
Thus it was that a contest was set up
With our honorable mother as the final judge
To determine which of us was the better thief
My more daring brother or the more brilliant me.

Well, to make a long story short
My more daring brother is the one who got caught.
And in going up there to post his bail
I found the story he told landed me in jail!
Which of us is the better thief remains unresolved
A baffling question which may never be solved.
Anyway it makes no difference; neither of us won
Our sister's run off with the family fortune!