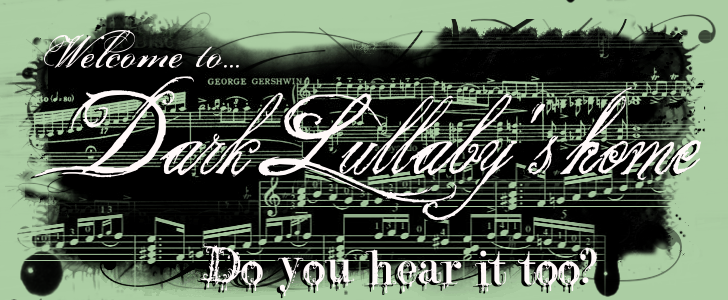 I draw more than I do any other kind of artwork, but I do a lot of photomanips too. I'm pretty good at graphics as well. I used to be horrible at all three...but that has changed thank whatever god exists to make that happen.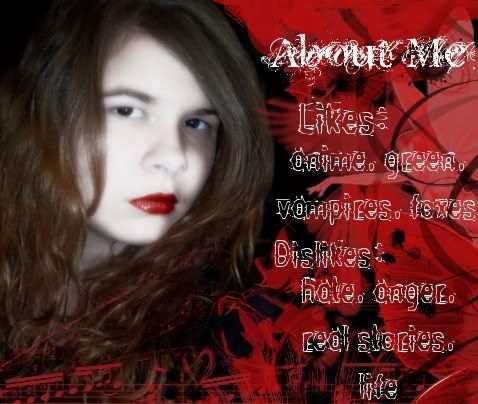 [

Trust me; once you've met me you'll some how regret it in some way. Just a fore warning.

]
~
I enjoy many things of which I don't have the time nor the energy to type here. Most everything anyway is somthing I pasted from another someone else's page. Yep, I stole a lot. What's gonna happen; am I going to be thrown in elftown jail? Actually that sounds a bit like fun.
I do more with my time than I say I do. I don't want to give myself completely away; you know because then I loose all of my mysterious edge. I don't like to call it lying as much as I like to call it 'not telling the whole truth.' I hardly ever lie.
I don't say things I don't want to talk about either. I try to avoid awkward subjects so before I hurt anyone's feelings...
I don't cyber.
I've been getting a few messages asking me to and it is so strange to have to turn something like that down. I never really know how to answer it. Do I just say 'no.' Or do I get all mad and type a page long explanation as to why the person that asked me that should never ask anyone that. But then I feel like I'm givin them more respect than they deserve. So please just
don't
ask me.
Thanks for stopping by and if we have something in common drop a line; I have nothing better to do than to send a message back...or do I?
---
if you have vampire freaks message me at
Dark_lullaby
---
my myspace is:
http://www.myspace.com/darkxlullaby
---
my deviant art is: Dark-Midnight
message me or somthing if ur there too. XD
---

Anime & Manga:

InuYasha
Samerai Champloo
Full Metal Alchemest
Chrno Crusade
Vash the Stampeed
Aquarian Age
Chobits
Saiyuki
Yu Yu Hackusho
Naruto
Outlaw Star
Case Closed
Some Days Dreamer
Perinoa Agent
s-CRY-ed
The Wanderers
Pre-Tear
Ghost in the Shell
Lupin the 3rd
Lain
Read or Die
Slayers
Vampire Hunter D
Wolfs Rain
One Piece
.hack//sign
.hack//legend of the twilite braclet
Gundum Seed
Kenshin
Sailor Moon
Demon Eyes Kyo
Desendents of Darkness
Ceres: Celestial Legend
Exel Saga
Kiss Me Kill Me
Paradise Kiss
Errie Qurrie
Hellsing
Princess Ai
Ranma 1/2
X 1999
Tokyo Babylon
Ah-My-Goddess
Witch Hunter Roben
...-cant think of the rest-...

Bands & Singers:

Within Tempation
Nightwish
Lacuna Coil
Greenday
Enya
Der En Grey
Yoko Ishda
Evanescence
Final Fantasy Music
My Chemical Romance
Epica
Dresden Dolls
Disturbed
System of a Down
The Killers
Rommel
Thy Damage Done
Kelly Clarkson (Don't ask, but I ain't ashamed)
Celtic Women
Steffy
Styx
Queen
Journey
Jonas Brother Band
Korn
Atreyu
Avenged Sevenfold
Cascada
Lullacry
Ozzy(Does he need a last name?)
Panic! at the disco
Saving Jane
From first to Last
T.A.T.U.
Utada Hikaru
Vanessa Carlton
Mandy Moore
Wierd Al
Smile empty Soul (With Eric Vocals)

Video Games:

ZELDA
Sly Cooper
Bolders Gate: Dark Alience (sp?)
Soul Calibur (sp?)
.hack
Final Fantasy
InuYasha
Rachet and Clank
Kingdom Hearts
Legend of Dragoon
Mario
Maro Cart
Star Fox
Burnout 3
---
[
Those who are Arrogant to change are Ignorant to what good that could come of it
]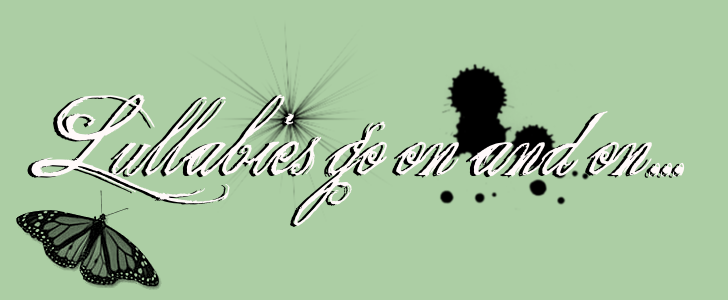 ---
I prefer to speak in words
no one understands
So then I can at least pretend
To understand myself
---
/\ /\
/ \/ \
< n n >
= = \\
\/ \\
| | | | \\
| | | | \\ __
| | | | \\ \____
| | | | //////// \
nm mn //////________
\


lookie!!!

its a fox!!! he plans on taking over the world!! I made him so cutely!!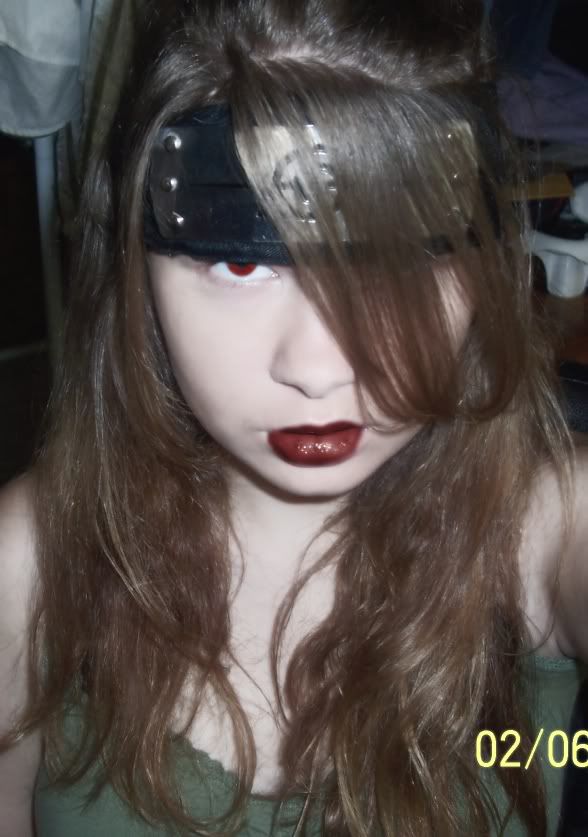 me as ninja...i would rather be a pirate. Whahaha it is Itachi's head band! bow to my awsomness! Itachi rules!

10 questions. Pick a band and answer only using that bands song titles
chosen band: Evanescence
1. Are you a male or a female:Snow white queen
2. Describe yourself: Like you
3. How do some people feel about you: Thoughtless
4. how do you feel about yourself:Missing
5. describe your family:Imaginary
6. where would you rather be:Fields of Innocence
7. describe what you want to be: Understanding
8. Describe how you live:Every bodies fool
9. describe how you love:Solitude
10. describe what you hate: You


---
cuz I'm
Quotes
a reble


"I got pissed off. I mean really snarling, middle finger salute to the world, you-and-what-army, Peter Finch in "Network," Pete Townsend-guitar solo-side four-of-"Quadrophenia" pissed off."-Libba Bray

"Men may have discovered fire, but women learned how to play with it." -Carrie Bradshaw


"If size can be altered and the weight is constant...I could pick up an elephant" -My brother

"I truly wish the human kind wouldn't rain on my day. Everyday they say things about me, as if I don't exist, but I must be pretty amazing for people to hate me so." -anonymous

"Any day your alive, isn't worthless" -Eric [kremit73]