Description:
My name is Joey. I enjoy skateboarding and playing guitar. At times i can be random and tend to rant, when im not doing that im deep in thought, normally in another world, but not paying attention to whats going on around me. I get confused very easily. I am confused right now actually. Okay, there is this girl. She is pretty much the most amazing girl i have ever known. I love her with all my heart and always will. I love you Caty. That sounds good, ill leave it at that.
--------------
-------------------------------

~The Friends~



~Caty~
My Beautiful girlfriend who is pretty much amazing. I love her with all my heart.



~Sean~
Pretty much me best friend and guitar player. No one can make solos like this dude.



~Megan~
The only word that can describe Megan is Awesome. Good times come with her.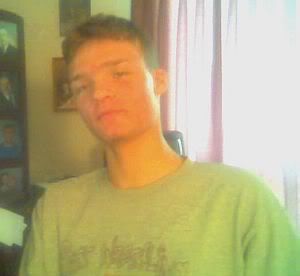 ~Will~
He takes me everywhere, weather its to work or my girlfriends, he does it. He speeds like a mother though. Good times, good time.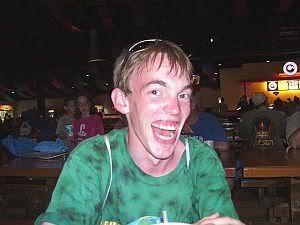 ~Jake~
Basically, he is on of the "kuhlest" guys on the planet. He is fucking crazy! He could get any chick he wants. lol

---------------------------------------------

So basically, I am in love with the most amazing girl in the world. She makes me happier than i could ever imagine. I never want to be without her. She is my life and without her i would die. When i am with her everything seems to be right. She is my light in the darkness. She is everything i could ask her. She is so beautiful. I cant wait to spend the rest of my life with her.

---------------------------------------------

Here is some of the music i like:

+ 44,The Academy is..., AFI, Aiden, Alkaline Trio, The Ampros, Anti-Flag, Arch Enemy, Aridai, Arlington, Armor for Sleep, As I Lay Dying, Atreyu, Audioslave, A7X, Bayside, Black Sabbath, Bleeding Through, Blink 182, Bloodhound Gang, Blood Brothers, Brand New, Breaking Benjamin, Buck Cherry, Bury Your Dead, Bullet For My Valentine Chiodos, Circa Survive, CKY, Coheed and Cambria, Comeback Kid, Cradle of Filth, Damone, Dead Poetic, Deftones, Demon Hunter, The Devil Wears Prada, Dicypher Down, Disturbed, Emery, Evenessance, Evergreen Terrace, Family Force 5, Fireflight, Flogging Molly, Flyleaf, Foo Fighters, From Autumn to Ashes, From First To Last, Godsmack, Gym Class Heroes, Halifax, Hawthorne Heights, Hinder, Hollywood Undead, Incubus, In Flames, Inside The Black, It Dies Today, Jet, Jimi Hendrix, The Killers, Kill Hannah, Killswitch Engage, Korn, Kutless, The Lawrence Arms, Led Zeplin, Lethal Customs, Lift Kit, Linkin Park, Lit, Manic Drive, Matchbook Romance, The Matches, Metallica, Mortal Treason, Motion City Soundtrack, Mudvayne, M C R, New Found Glory, Nickleback, Nine Inch Nails, Nirvana, NOFX, The Offspring, Paramore, Papa Roach, Pillar, Pink Floyd, Plain White T's, Poison, Powerman 5000, Project 86, Queen, Queens of The Stone Age, Rage Against the Machine, Ramstien, Red Hot Chili Peppers, Red Jumpsuit Aparatis, Refused, Rise Against, Rob Zombie, Saosin, Scary Kids Scaring Kids, Scorpian, Seether, Senses Fail, Sex Pistols, Seventh Day Slumber, She Wants Revenge, Silverstien, Simple Plan, Skillet, Slipknot, Smashing Pumpkins, Sparta, Static X, The Strokes, Suicidal Tendencies, Sum 41, System of a Down, Taking Back Sunday, The Used, 30 Seconds to Mars, 36 Crazyfists, Thousand Foot Krutch, Thrice, Thursday, Tribute To A Martyr, Turbonegro, Underoath, Until Eternity, The Verve, The Winners Circle

---------------------------------------------

"Forever and a Day"

I thought we'd be together forever.
But it seems I was wrong and everything's falling apart. Think of what I've done for you.
Think of all that we've been through.
I hope every time he breaks your heart you think of me
and how I was to you.
Everything's falling apart.
One day you'll see just how good I was.
And I thought that we'd be together forever.

There is a place where the sidewalk ends
And before the street begins,
And there the grass grows soft and white,
And there the sun burns crimson bright,
And there the moon-bird rests from his flight
To cool in the peppermint wind.

Let us leave this place where the smoke blows black
And the dark street winds and bends.
Past the pits where the asphalt flowers grow
We shall walk with a walk that is measured and slow,
And watch where the chalk-white arrows go
To the place where the sidewalk ends.

Yes we'll walk with a walk that is measured and slow,
And we'll go where the chalk-white arrows go,
For the children, they mark, and the children, they know
The place where the sidewalk ends.

---------------------------------------------

"Always and Never"

This was my fate, giving in
To your lips, To your eyes
i should have known it would come back to haunt me
Crooked smile, a reflection in your eyes
That shows my weakness for Beautiful mistakes

Something that I know you've seen before
I'm not the first
Set the trap, I'm falling for it every time
I can't believe, everyone knew from the start
This would come back to haunt me
I can't stand to see you now
How could I ever trust you

I'll Take it back to the streets
I'll start again
I'll never look back
I'll never look back, back
How do you feel? I bet you don't feel anything
Don't have a heart attack
don't have a heart attack
But I won't stop you

flying high, razor blades make perfect lines
on just about anything you want
Broken pores spill out everything you want to say
it shows my weakness for falling in love with
my wallowing despair that shines in black
It consumes me, I'll take it back
i'll build it back to what it was

I can't believe Everyone you told this to
This would come back to haunt me
I can't stand to see you now
How could I ever trust you

I'll Take it back to the streets
I'll start again
I'll never look back
I'll never look back, back
How do you feel? I bet you don't feel anything
Don't have a heart attack
don't have a heart attack
But I won't stop you

Everyone you promised to
This would come back to haunt me
I can't stand to see you now
How could I ever trust you

Cut me out, of your life
Like its nothing (Like I'm nothing)
Make believe you can love
that it's better, that you're better

Part of me is gone,
you've taken
You've taken
You've taken
You've taken
Part of me is gone,
you've take
You've taken
pieces from me

I'll Take it back to the streets
I'll start again
I'll never look back
I'll never look back, back
How do you feel? I bet you don't feel anything
Don't have a heart attack
don't have a heart attack
But I won't stop you

You won't stop, you'll never change
You won't stop, you'll never change

---------------------------------------------

Could Today Get Any Worse...
...So Far It Has

---------------------------------------------

"Your Guardian Angle"

When I see your smile
Tears run down my face I can't replace
And now that I'm strong I have figured out
How this world turns cold and it breaks through my soul
And I know I'll find deep inside me I can be the one

I will never let you fall
I'll stand up with you forever
I'll be there for you through it all
Even if saving you sends me to heaven

It's okay. It's okay. It's okay.
Seasons are changing
And waves are crashing
And stars are falling all for us
Days grow longer and nights grow shorter
I can show you I'll be the one

I will never let you fall (let you fall)
I'll stand up with you forever
I'll be there for you through it all (through it all)
Even if saving you sends me to heaven

Cuz you're my, you're my, my, my true love, my whole heart
Please don't throw that away
Cuz I'm here for you
Please don't walk away and
Please tell me you'll stay, stay

Use me as you will
Pull my strings just for a thrill
And I know I'll be okay
Though my skies are turning gray

I will never let you fall
I'll stand up with you forever
I'll be there for you through it all
Even if saving you sends me to heaven

---------------------------------------------