I AM: THE WARRIOR ! :]]
I WANT: freedom, man.
I HAVE: a great music library.
I WISH: i was cooler.
I HATE: heartbreak.
I MISS: chuck.
I FEAR: my parents.
I HEAR: sweet, sweet music.
I SEARCH: for happiness.
I WONDER: when i'll break free !
I REGRET: nothing.
I LOVE: chuck torres.
I ACHE: like courtney love aches.
I ALWAYS: say i'm sorry.
I AM NOT: better than anyone.
I DANCE: whenever i get the chance
I SING: like robert plant.
I CRY: until i'm sick.
I WRITE: a lot of different things.
I WIN: the love of many.
I LOSE: at life.
I CONFUSE: society.
I NEED: to lighten up.
I SHOULD: tell chuck i love him.
"Salsa shark!
We're gonna need a bigger boat.
Man goes into cage, cage goes
into salsa, shark's in the salsa."
- Randal Graves, "Clerks".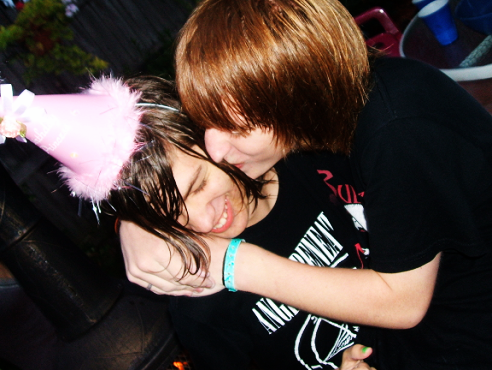 That is the cutest damn picture ever.
Joe and Jimmy ([somerandomperson])
Presentation:
I'm just your average teenage sci-fi afficinado (Spelling error) who loves Back to the Future and Marvel comics to no end. Back to the Future has been my favourite movie since I've seen it... it's probably the most cheery and optimistic view of what could happen to the human race if we got our hands on time-traveling technology. In the comics department, I love the X-men and I have for quite some time. I can name them all. I'm way more into science fiction books comics and movies than fantasy, but I do like movies like Labyrinth and The Dark Crystal (I'm a big Jim Henson fan) but that's about as far as I go with fantasy.
General:
My name's Laura, I'm fourteen, fifteen in September. I'm obsessed with rock music and as you can see in the above paragraph, Back to the Future. I live in New York in the suburbs. It's okay here. A little boring, but it's okay. I am an aspiring photographer..
. I mostly practice on myself, just like every other teenager with a MySpace in America. I'm a proud Christian... I even go to Jesus camp in the summer. It's a lot of fun, trust me. I like to make graphics with Paint Shop Pro, mostly for LiveJournal. If you'd like something done, just ask! I like all the new music, Fall Out Boy, Hellogoodbye, et cetera. Maybe I'm emo. I don't know. All I know is I'm trying to wear less black. :]



Music: The Cure, Hanoi Rocks, Motley Crue, Skid Row, The Beach Boys, The Beatles, Fall Out Boy, Poison, HelloGoodbye, The Academy Is..., Jimi Hendrix, Frank Sinatra, Cole Porter, Donovan, Bob Dylan, Oasis, Journey, Queen, Insane Clown Posse, Iggy & The Stooges, The Ramones, The White Stripes, The Raconteurs, The Guess Who, The Eagles, The Kinks, Led Zeppelin, AC/DC, Nirvana, Hole, Guns N' Roses, Metallica, The Who, The Rolling Stones, R.E.M., The Offspring, No Doubt, Michelle Branch, Madonna, The Goo Goo Dolls, Spice Girls, Aerosmith, The B-52's, Green Day, Beck, Billy Idol, The Black Eyed Peas, Blondie, Chuck Berry, The Darkness, David Bowie, The Doors and more I can't think of.




AIM: haji sayyy







Just Like Heaven by The Cure.
This song saved my soul.





Show me, show me, show me
How you do that trick
The one that makes me scream, she said
The one that makes me laugh, she said
And threw her arms around my neck
Show me how you do it
And I promise you, I promise that
I'll run away with you
I'll run away with you





Spinning on that dizzy edge
I kissed her face, I kissed her neck
And dreamed of all the different ways
I had to make her glow
Why are you so far away, she said
Why won't you ever know that I'm in love with you,
That I'm in love with you?





You... soft and only
You... lost and lonely
You... strange as angels
Dancing in the deepest oceans
Twisting in the water, you're just like a dream
Just like a dream





Daylight licked me into shape
I must have been asleep for days
And moving lips to breathe her name
I opened up my eyes
I find myself alone, alone, alone
Above a raging sea
That stole the only girl I loved
And drowned her deep inside of me.





You... soft and only
You... lost and lonely
You... just like heaven