wu di doo
(back by populer demand

)
Email: wu_di_doo@yahoo.com
Name:
cassidy lynn nelson
me now
if you are a friend then i am your knight if your an enemy im your nightmare
Index-pages in the wiki: (
help
)
Description:
pounces on you as you walk in the door ello there how bees you im good too ok now that that out of the way um........me stuffs
well lets see im 6'2" ,200 lbs blonde hair green eyes if thers any then i forgot ask me:) oh one more thing ...SIGN MY GUEST BOOK...plezzzz
zzzzz.
my gaia house is here www.gaiaonline.com/homes?user=188171

im the tall one in the back the fat guy on the left is nick[hells_angle]the chick in the middle is regina[

*reginao7*

]and the little dude on the right is jon(whos not a town member)so ya any ways um if you cant tell im blonde but im only half the sterio type and im not stupid so guess wats true *wink* so ya oh and if you happen to be a bunny or some other bunny like person then join *[

bunny squad

]*


---------------------------------------------
---------------------------------------------


[

dragons united

]
meow say the dragons only the worthy may here ther mighty roar
[

anti-suicide

]suicide is not the answer. life may suck but the people you meet are ther to help
neways my fav music are tomany to count but the top is icp b/c they rock out and are the best but if i can get a good killin beat wether its a slowslicer all the way to a fast gat beat i like it. cuz they all rock

Copied text was removed by the guards


My House is a Safe Zone.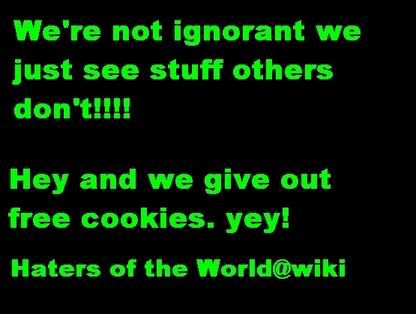 the world sucks so let blow it away[

haters of the world

]

Copied text was removed by the guards
| | | | |
| --- | --- | --- | --- |
| Age: 26 | Year of birth: 1987 | Month of birth: 9 | Day of birth: 19 |
Fantasy race personality:
Orc
34°57.840'N 93°18.648'W
Place of living:
USA-Arkansas
Elftown crew wannabe:
Yes
Favorite drawing objects
anime
buildings
demons
dragons
dwarves
elves
fairies
funny
horses
landscape
magic
orcs
sex
strange
vampires
warriors
weapons
Computer interests
action games
art
chat
email
graphics
music
pr0n
programming
strategy games
video
webcam
Music
| classical | goth | grunge |
| --- | --- | --- |
| heavy metal | new age | progressive metal |
| punk | rap | reggae |
| rock | synth | techno |
Other interests
anime
art
beer
books
chasing the preferred sex
eating
electronics
porn
role playing
singing
scifi
smoking
whisky
writing
Sexual preference:
opposite sex
Elftown – the social site made for fans of scifi and fantasy
Visit our facebook page