Description:
FIRST OFF I HATE THE FACT OF CYBERING SO DON'T ASK!! PLEASE GIVE ME YOUR DAMN OPINION I'D LOVE TO HEAR WHAT YOU THINK OF ME. *ROLLS EYES*
blonde hair green eyes and loves to have fun in bed and just write me and ask about anything else and i'll tell you.
oh yea and go to anti-prude on the wikis
some of my fav bands
P.O.D
I.C.P
3 days grace
Avril Lavigne-SHE IS FUCKING HOT!!!!!!!!!!
Linken Park
GreenDay
G.C.
Simple Plan
System of a Down
Yellowcard
evanecences
oh and don't forget SLIPKNOT
if i missed some wich i know i did sorry
Juggalo Pledge
I pledge allegiance to the Hatchet of the Underground Juggalo Society, and to the Ninjas for which it stands, One Family, Under Clowns, Full of Freaks, with Faygo and Magik Neden for all!!!
STONERZ PLEDGE:
peace,pot,tequ
ila shot, jesus luvs you stoned or not, sex,drugs,rock+roll,speed,weed,birth control,lifes a bitch then u die, fuck the world lets get high.we are stoners we have class,mess with us we'll kick your ass, so to all you preps who think your cool go to hell cuz stonerz rule

poems that fit me best

Stoners live and stoners die
So fuck this world
Lets get high

i once was there
but now i'm not
i went outside to smoke some pot
i wrote a note to prove a point
lives a bitch without a joint

roll roll roll yer joint
twist it at the ends
light it up take a puff
pass it to a friend

a friend with weed is a friend indeed

join the marines
travel to strange,exotic lands
meet unique, interesting people
and the kill them. hehehe thats what me shirt says i love it!!!!!



[

x

]
Meh friends
[

x

]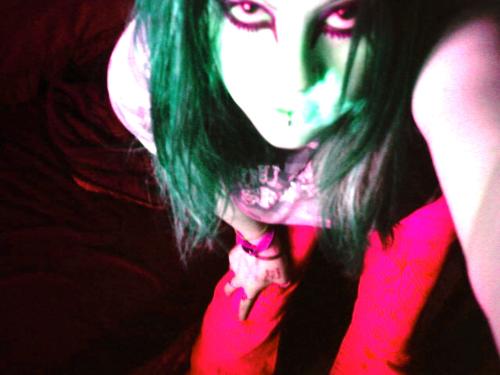 [O.b.s.c.e.n.E] britchones! you have to love her, she's flippin awesome!oh and that butt belongs to me damn it>.< and ne one who touches it will have to pay dier consiquences...hehe its cause i oh so totally rock your socks and I love her!!!



<font color=red> [EmeraldGrizzly] gave this to me so don't take it away


"Juggalo Homies"
(feat. Twiztid)


(I know you ain't there
That's why I just want to let you know something bro
You all know I love you
You all know you're my homies
And eh... Alright we'll talk later - peace!)


[Violent J]
Let me ask you this about this life we live
And let me try to swerve some of this attention you give
To them distant ass relatives over ham dinner
If they really missed you so much
Why don't they just call a (Muthafucka) ?
If you wasn't blood, would you still have love?
Or infact does the blood make you think you have to love?
Look, I probably love my family more than anybody here
But my homies are family too, 3rd cousins' get outta here
Who was you with when you got tattooed?
And who was you trippin' with when you did them mushrooms?
And who the fuck threw up all over your car?
And then felt worse than you about that shit in the morning? (Friends ya'll)


[Shaggy 2 dope]
Who loaned you money, homie?
Who owes you cash? (Who?)
Who taught you how to use the bong for the grass? (Who?)
I don't know much but I gotta assume
When ya hit ya first neden, ya homies was in the other room


[chorus]
We talkin' about HOMIES! HOMIES!
Talkin' about the Road Dogs of mine
Our motha fuckin' HOMIES! HOMIES!
We throwin' up clown love signs (Real Juggalo)
HOMIES! HOMIES!
Talkin' about the Road Dogs of mine
HOMIES! HOMIES!


[Violent J]
Have you ever had a job that you truly despise?
Like I don't know maybe dish washin', or fuckin' flippin' fries
And you got this boss who thinks he's the Don Mega
Because he the head manager (Chief Chili Fry Maker)
All you can vision is ya'll beating him down
Your homies standing on his back while you kicking his head around
But responsibility is there, I can't lie tho
I'd of been plucked his fucking eye ball out with a chicken bone
I'm crazy as fuck, i'll rip your peircings off
And now my homies are holding me back so I don't look soft


[Shaggy 2 dope]
When you snuck the car out who did you get? (Who?)
And when you got caught, who you blame the shit? (Who?)
Who can you relax around and scratch your balls? (Who?)
Homies, i'm talking about like you and yours


[chorus]
We talkin' about HOMIES! HOMIES!
Talkin' about the Road Dogs of mine
Our motha fuckin' HOMIES! HOMIES!
We throwin' up clown love signs (Real Juggalo)
HOMIES! HOMIES!
Talkin' about the Road Dogs of mine
HOMIES! HOMIES!


[

Violent J, Anybody Killers, and Juggalos

]
You don't like me, you can fuck off!
Carnival ain't for everyone!
Keep it in your click fuck the outside baby
You don't like me, you can fuck off!
Carnival ain't for everyone!
Runnin' with the homies until i'm old like Grady


[Jamie Madrox]
Me and my homies stay tight like a noose
And if you step to one of us you better step to the whole crew
I never knew that I could depend
That I could have some friends that's down to the very end
Well that's my homeboys excuse me, my family
And when we conquer the world
We mackin' on the galaxy
'cause sky's the limit and we ain't finished
And if my homies gonna ride ya know I'm with it


[Monoxide Child]
Puff it and pass it and I give it to my homies ya'll
Hit it and quit it and then I give it to my homies ya'll
I got the world around my finger with my homies ya'll
And everything is obsolete unless I hear my homies call
We world wide, were homies across the planet
Sticking together like zippers on Michael Jackson's "Beat It jacket"
They got my back like a tat for that, I love ya'll
Hanging till we old and gray like grandpas (Psychopathic)


[

Chorus - Repeat somewhat

]
We talkin' about HOMIES! HOMIES!
Talkin' about the Road Dogs of mine
Our motha fuckin' HOMIES! HOMIES!
We throwin' up clown love signs (Real Juggalo)
HOMIES! HOMIES!
Talkin' about the Road Dogs of mine
HOMIES! HOMIES!


You don't like me, you can fuck off!
Carnival ain't for everyone!
Keep it in your click fuck the outside baby
You don't like me, you can fuck off!
Carnival ain't for everyone!
Runnin' with the homies until i'm old like Grady


You don't like me, you can fuck off!
Carnival ain't for everyone!
Keep it in your click fuck the outside baby
You don't like me, you can fuck off!
Carnival ain't for everyone!
Swingin' hatches on the daily with my crew actin' crazy

FUCK OFF JUGGAHOE BITCHES


<b>

JUGGALO VS. FRIEND--
Friend: Calls your parents "Mr." or "Mrs."
Juggalo: Call your parents "Mom" or "Dad."
Friend: Has never seen you cry.
Juggalo: Has the best shoulder to cry on.
Friend: Asks you for your number.
Juggalo: Asks you for their number.
Friend: Will leave you hanging to be with a crowd.
Juggalo: Always has your back.
Friend: Runs for help in a fight.
Juggalo: Jumps in the fight to help.
Friend: Will bail your stale ass out of Jail.
Juggalo: Will be sittin' right next to you saying "That was fucking awesome!"
Friend: Will help you move out of a house.
Juggalo: Will help you move a dead body out of the house.
Friend: Bums you a cigarette
Juggalo: Bums you his last pack
Friend: Is there when you need them
Juggalo: Is there even when you dont need them
Friend: Gets drunk at a party and pukes on your carpet
Juggalo: Feels worse than you do about puking on your carpet in the morning
Friend: Hides you from the cops
Juggalo: Is probably the reason the cops are after you in the first place
Friend: Lets you make an ass out of yourself in public
Juggalo: Is up there with you making an ass out of themselves too
Friend: Likes you cause your always doing stupid shit
Juggalo: Loves you even though you do stupid shit
Friend: Is shocked to find out your actually gay
Juggalo: Already knew but really could care less
Friend: Doesn't tell anyone if you kill the guy who tried to kill you
Juggalo: Helped you kill that asshole
Friend: Comes with you to your moms funeral
Juggalo: Cries with you at your moms funeral
Friend: Tells you when his parents doesnt want him to hang out with you any more
Juggalo: Laughs in his parents faces for saying that
Friends: Fade
Juggalos: Are 4 Ever

Pass this shit on to all your juggalo homies

I've alwayz got my juggalo family next to me wherever i be



go to this wiki NOW i comand u to
ohhn and let me set some shit straight i only do shrooms weed and the bottom row but if u do what i do please message me

Follow these rules to maintain your sanity:

1. At lunch time, sit in your parked car with sunglasses on and point a hair dryer at passing cars. See if they slow down.
2. Page yourself over the intercom. Don't disguise your voice.
3. Every time someone asks you to do something, ask if they want fries with that.
4. Put your garbage can on your desk and label it "in"
5. Put decaf in the coffee maker for 3 weeks. Once everyone has gotten over their caffeine addictions, switch to espresso.
6. In the memo field of all your checks, write "for sexual favors".
7. Finish all your sentences with "in accordance with the prophecy."
8. Don't use any punctuation marks
9. As often as possible, skip rather than walk.
10. Ask people what sex they are. Laugh hysterically after they
answer.
11. Specify tha! t your drive-through! order is "to go".
12. Sing along at the opera.
13. Go to a poetry recital and ask why the poems don't rhyme.
14. Put mosquito netting around your work area. Play a tape of jungle sounds all day.
15. Five days in advance, tell your friends you can't attend their party because you're not in the mood.
16. Have your coworkers address you by your wrestling name, Rock Hard Devon.
17. When the money comes out the ATM, scream "I won!", "I won!" "3rd time this week!!!!!"
18. When leaving the zoo, start running towards the parking lot, yelling "run for your lives, they're loose!!"
19. Tell your children over dinner, "Due to the economy, we are going to have to let one of you go."
20. Put this in all of your profiles.
True Story:
A religion teacher assigned her class an essay on what makes a good Christian. One student wrote about praying nightly, say no to abortion, banning gay marriage, and donating money. The other student wrote about talking to God and allowing people to enjoy their lives, and supporting gay marriage.

The day the teacher was to hand the papers back, she called up the second student and told him she would pray for him when he went to hell. The student asked why would he be going to hell, and why he got an F on his paper. The teacher told him that Catholisim is against gay marriage. The student looked at her for a minute, then said aloud, "I'm gay." The teacher kicked him out of class as if he had said fuck or worshipped Satan.

A girl in the back of class who had a boyfriend and was obviously straight got up and left too.

* If you would leave the classroom, repost this. It doesn't matter if you're straight, bi, or gay. It doesn't matter if you're Catholic or not. Everyone is a human being and deserves happiness. *
[

Everyone Deserves HAPPINESS!

]

Post this in your house or diary if you beleive the same