black+white
(back and all grown up. :-) -12/21/2011

)
Email: black_white_102@yahoo.com
this is wut i looked like on my b-day! (october 2nd) YAY!!!! i <3 this wig. i look so cute and innocent! SEE! i can pull off innocent! *points*
lmao. me (the one with the hand up) and genae (the one that looks scary beyond words).. us going "no... no, dont come ne closer... oh god... OHHHHHHHH GGGGGOOOOOODDDDDDDD!!!!!!!!!!!"
Elftown titles and orders
Town Drunk
Beggar
Street child
Adventurer
Description:
[

SO BEFORE U ALL YELL AT ME FOR NOT EVER BEING ON, IN MY DEFENSE, MY COMPUTER AT HOME IS BROKEN. I STILL LOVE U GUYS. AND I MISS U, SO ONCE I GET MY PUTER UP AND RUNNING, I'LL RESPOND TO ALL THE MSGS. BUT IM AT SKWL, AND I DONT HAVE TIME, SO LOVE U ALL. CIAO CIAO!!!! ♥♥♥♥♥

]
[
WELCOME!

]
Hannah's House!
---
ABOUT ME:
.i'm half black, half white, but everyone says i look spanish.
.i have long curly brown hair, but i dyed it orange, red and black. It changes every now and then.
.i love makeup, but my friends say i look pretty without ne makeup on. i think they're crazy.
.i'm around 5'6"
.i might be around 130 lbs.
.I'm a hippie
.i don't really care for nail polish but I wear it on occasion.
.i like guys clothes cuz they're comfy but still dress like a girl most of the time.
.i only wear silver. i hate gold.
.
ONE MORE THING!!!
i have an [
UNHEALTHY
] obsession with NIGHTMARE BEFORE CHRISTMAS!!!!!
!!



I LIKE TO:

.eat, eat, eat apples and bananas.
.listen to music.
.watch MTV2.(MTV has too many reality shows nowadays.)
.go to theme parks. i'm all about roller coasters.
.teach myself how to play songs on the keyboard. i taught myself how to play a song on the drums once. i was so excited cuz there was this one part i could NOT get, and i finally got it!... now i have no idea how i did it. lol
.draw.
.write.
.read
.dance until i drop, then dance some more.
.jump around.. jump, jump, jump around... jump up, jump up and get down... JUMP, JUMP, JUMP, JUMP. ok, im done.
.belly dance.
.sing along to BOHEMIAN RHAPSODY with my friend on the bus.



FAVORITES:

*Fav Movies*
.Nightmare Before Christmas
.Rocky Horror Picture Show
.Breakfast Club
.Labyrinth
.Cry Baby
.Sixteen Candels
.Pirates Of The Carribean
.Edward Scissorhands
.Beetle Juice
.Chicago
.Spirited Away
.The Adventures of Priscilla, Queen Of The Desert
.Drumline
.Queen Of The Damned
.Gypsy 83
.Moulin Rouge
.The 5th Element

*Fav TV shows*
.Fosters Home For Imaginary Friends[

so i still act like a kid. a lot of ppl do

]
.InuYasha
.Family Guy
.South Park
.Full Metal Alchemist
.Naruto
.Ghost Hunters (T.A.P.S)
.T-Minus Rock
.Mad TV
.Comedy Central Presents
.Scrubs

*Fav Foods*
.Kung Pao Chicken
.Gyros
.Carneasada burritos
.French Toast
.Pad Thai
.Burrito Supremes

*Fav Drinks*
.Root Beer
.French Vanilla Capuccino
.Pini Colada Slurpy

DISLIKES:

.Baseball
.Feet
.Extremely preppy people
.People that try too hard to be cool.
.People that repeat themselves too much.
.southern accents(i dont kno y, it kinda bothers me somtimes. Only when my mom does it.)
.Beer
.Bugs that fly, or have way too many legs than needed.
.Reality shows
.MTV(too many reality shows)
.Most rap
.Clowns




---




SONGS I LIKE:(it changes every once in a while)



SONG:Blance Beam
By:BLUE OCTOBER

http://www.youtube.com/watch?v=1rtZMklRvEQ





I haven't been quite the same
So sure the story of my life would never change
In a bright eyed way
She rinsed out the soap in my eyes and wrote a song that I'm about to sing
She's a magnetic girl
That I hardly even know
So this is not another love song
Just a list of things that I should know
Everyone should know that...





(Chorus)
One: You've got to take it kind of slowly
Two: You've got to hurry up and make your move
Three: You've got to tell her how you're feeling
Four: You've got to be the perfect gentleman
When you shake the wall, you've got to make it bend
Yeah you're got to show her that she's pretty
She's so pretty
You're the balance beam
And I keep falling all around this fairy tale.





We took a walk in the rain
I suggested, she confessed that
There's a park nearby to cast the shade
Stay cool but I'm giddy like a school boy
You've got to handle with care this is not a toy
Gradually we touched
Though our clothes were wet
We sat and smiled
I never thought I'd smile so much
The first kiss always says the most





(Repeat Chorus)
Everyone should know that
(Repeat Chorus)





OO this fairy tale OO this fairy tale
Some kind of fairy tale. Some kind of fairy tale.





Everyone should know that






---




Random:


92% percent of the teen population would be dead if Abercrombie and Fitch said it wasn't cool to breathe anymore. Repost this if you are one of the 8% who would be laughing your ass off.
let em drop. LMAO!

Heaven wont have me, and hell's afraid i'll take over.

Dance magic, dance magic, dance!! (Labyrinth)

You are everything i want, cuz you are everything I'm not... (Taking Back Sunday. makedamnsure)

CHOCOLATE!!!!!! NOT DIAMONDS!!!! CHOCOLATE IS A GIRLS BEST FRIEND DAMN IT! GET IT STRAIGHT!! GOSH!!

i like cereal..... i like chocolate milk.... I LIKE CEREAL!!!! I LIKE CHCOLATE MILK!!! i... like... ceeerrreeeeaal... i like CHOCOLATE milk....... (I <3 CHEESE!!!)

Keep on trying, I'll not die so easily... (Queen Of The Damned- System)

Humpty Dumpty sat on the wall,
Humpty Dumpty had a great fall,
and all the kings' horses and all the kings' men...
ate scrambled eggs for 2 weeks



---
PROTECTED BY: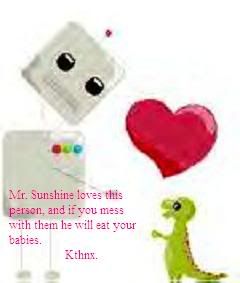 ---




You should be proud of yourself. You made it through my home page. CONGRADULATIONS!



PS:
Press the button. I dare you. DO IT!!!! MWAHAHAHAHAHAHA!


>>>[#]<<<
| | | | |
| --- | --- | --- | --- |
| Age: 21 | Year of birth: 1990 | Month of birth: 10 | Day of birth: 2 |
Fantasy race personality:
Halfling
37°13.812'N 80°59.214'W
Place of living:
USA-Virginia
Town:
no one needs to know!
Favorite drawing objects
demons
elves
fairies
funny
magic
strange
vampires
Music
goth
heavy metal
hip hop
progressive metal
punk
rap
reggae
rock
Other interests
animals
art
books
cats
chasing the preferred sex
cooking
dancing
dogs
drinks
fantasy
fashion
party
plants
scifi
shopping
writing
Sexual preference:
same sex
Elftown – the social site made for fans of scifi and fantasy
Visit our facebook page