Email: laharl7110@aol.com
Elftown titles and orders
Description:
about five nine. 15 years of age. real slacker in school. have long, nice hair and a big chin. (everyone says it)
Check it out! im worth $1,157,790.00 on human for sale.com
http//www.mysp
ace.com/phantomxvii

go there and be amazed


---



17 is the best number ever!!!

Pics:



My new bass (yes its mine)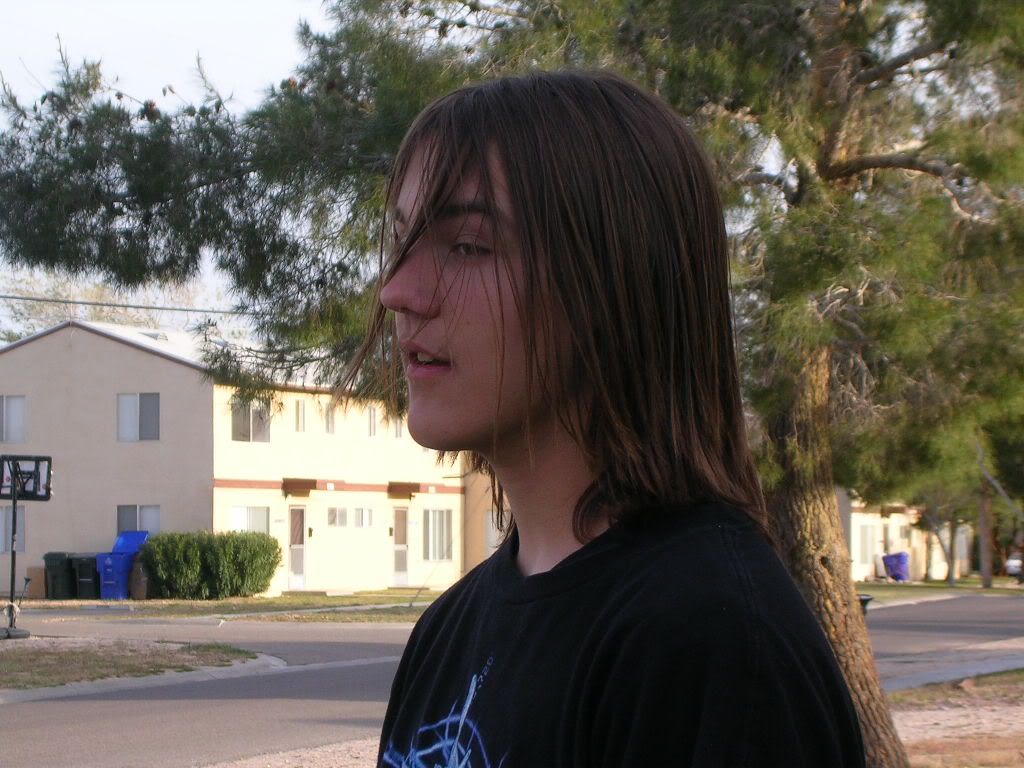 new pic of me finally (i look stoned)



Nice view! (by the way, thats me)


---


favorite music: rock
favorite bands (not in order):

Atreyu
Slipknot
Korn
HIM
Deadstar Assembly
Kittie
AFI
Ra
System Of A Down
Mudvayne
Nine Inch Nails
Static-X
Audioslave
Marylin Manson
Fudge Tunnel
Murderdolls
Soundgarden
Butthole surfers
Fear Factory
Metallica
Megadeth
Strapping Young Lad

malice mizer
dir en grey
(not really my favs but they're pretty good)


---


dood this is one of the best songs ever...

Slipknot: Wait And Bleed

I've felt the hate rise up in me...
Kneel down and clear the stone of leaves...
I wander out where you can't see...
Inside my shell I wait and bleed...

Goodbye!

I wipe it off the tile, the light is brighter this time
Everything is a 3D blasphemy
My eyes are red and gold, the hair is standing straight up
This is not the way I pictured me
I can't control my shakes, how the hell did I get here?
Something about this so very wrong...
I have to laugh out loud, I wish I didn't like this
Is it a dream or a memory?

Get outta my head cuz I don't need this
Why didn't I see this?
I'm a victim-Manchurian candidate
I-have-sinned-by-just
Makin' my mind up and takin' your breath away

You haven't learned a thing
I haven't changed a thing
My flesh was in my bones
The pain was always free

I'VE FELT THE HATE RISE UP IN ME
KNEEL DOWN AND CLEAR THE STONE OF LEAVES
I WANDER OUT WHERE YOU CAN'T SEE
INSIDE MY SHELL I WAIT AND BLEED

And it waits for you!

(Image deleted by the guards)
slipknot is one of the best bands ever


---


Now this IS the best song ever

Atreyu: This Flesh A Tomb

I feel eyelashes on my cheek, and they lacerate my
flesh, a pain so good. Put your hand in mine, never
let go, never wake up 'cause I'm done with promises,
I'm taking blood oaths. Feels like you could kiss my
imperfections, my imperfections away. And I would
stand, stand by your side until the sun turns the
sky all the colors I see in your eyes. I'll never need
to see the sun again, there's enough light in your
eyes to light up our little world. So take me, take
me away. Kill me slowly, I'll never be the same. I
swear to you, on everything I am, and I dedicate to
you all that I have and I promise you that I will
stand right by your side forever and always until
the day I die. The bite marks on my neck never felt
so good. I'm losing control and It's all that I
can do not to blackout and fall into lust with
you. Your kisses infect me. The Dark Gift is
loving you, and I feel immortal and I want
to make you feel the same. So stand by
me as we immolate.
We can burn in each other's arms.


---


wiki's



safety pins! yeah! the best addition to clothes ever!(new banner)



look at the badge... the apostrophe is in the wrong place... but we're too lazy to change it! lazy people united



the best wiki ever

---
| | | | |
| --- | --- | --- | --- |
| Age: 27 | Year of birth: 1990 | Month of birth: 7 | Day of birth: 11 |
Fantasy race personality:
Human
34°51.000'N 116°46.998'W
Place of living:
USA-California
Favorite URL: AddictingGames.com
Elftown crew wannabe:
Yes
Music
| alternative | goth | heavy metal |
| --- | --- | --- |
| progressive metal | punk | rock |
Other interests
anime
books
fantasy
slacking
Sexual preference:
opposite sex
Elftown – the social site made for fans of scifi and fantasy
Visit our facebook page