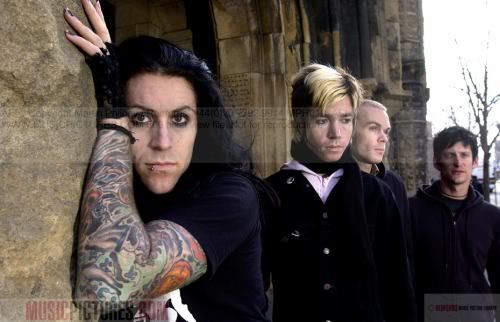 IMFG: How f***ing hot is this pic lol?!
*Afi Lyrics Words To Live By!!!
*BaNd PiCtUrEs
*JaVeY pIx
*DAVEY PICTURES
*JADE PICTURES
*ADAM PICTURES
*HUNTER PICTURES
*One Big Dark Room...Created by [*Lil Gangsta Mami*]
*Band Logo Pix
*Ghouls Night Out
*Afi Icons...Created by [Mrs.Carson]
*AFI GUITAR TABS
One Dark Flame Members If you want ot join just add your name here...If you have any problems just message me!

Also check out
Afi lovers
Created by [
Mrs.Carson
]
*
Afi Contact Info
*
afi Tour Info
*
Despair Faction Info
Member Bios:
Davey
DAVEY PICTURES
Born 1975 nov. 20th in Rockchester NY.He was born with brown hair,and brown eyes. When he was very young he moved to Ukia CA. His father also died when he was very young. Also Davey started singing when he was very young. His great grand parents would pay him to sing old 1920's songs.
Havok isn't Davey's real name but i will not say what his real name is becuase if he wanted us to know what it was he wouldn't use havok.
Davey now has dyed black hair and his hieght is 5'8. Some of his favorite bands are Danzig, the Misfits, Rancid, Joy Division, the Germs, Angry Samoans, Jane's Addiction, and more.
Some interesting facts about davey are :
he's been SxE for over 10yrs.
he's is also vegan.
He was electrocuted, and has been bitten by a spider.
He also broke his nose while on the road.
He's is obsessed with Johnen Vasquez's comic books.
In high school he was in the Thespian society (drama/theatre) and CSF
His favourite venue is the Gilman in Berkeley, CA
---
Adam
ADAM PICTURES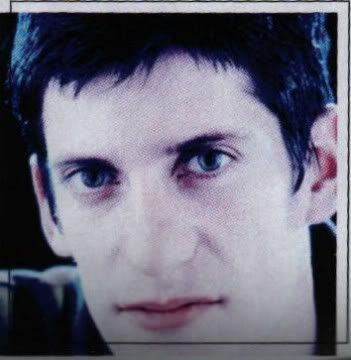 Born 1975 Feburary 5th Adam also grew up in Ukiah and became an AFI memeber because his brother owned a drum-set. Adam is a silent/shy guy and hates taking photo sessions! Adam is the drummer on the first Tiger Army recordings! One of his favorite bands are Birthday Party and Rancid..
---
Hunter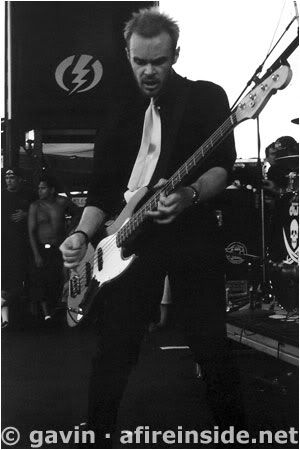 HUNTER PICTURES
Born 1975 may 14th
Hunter first met AFI during the Punk Fiction days, shortly after that Geoff left the band and AFI payed him $666 to play on SYMAOYE. Shortly after that Hunter became a full time member of AFI! Hunter is a multi talented guy, he can play bass,drums,gui
tar and sing! This he proved by releasing Hunter Revenge where he does all that

---
Jade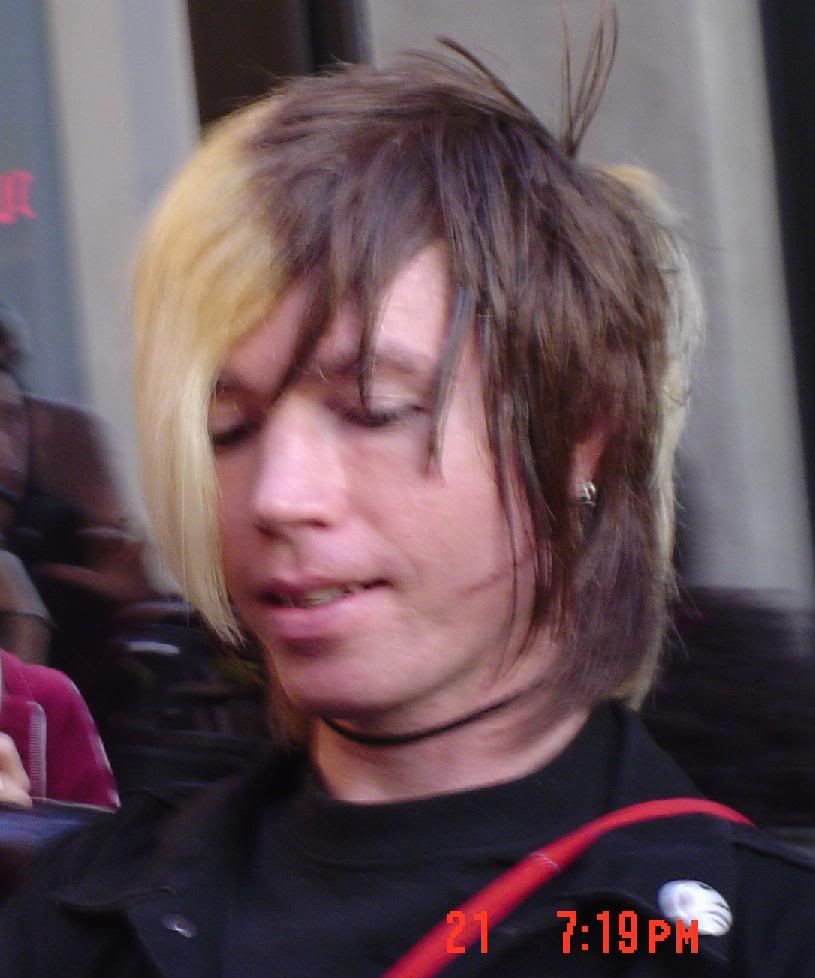 JADE PICTURES
born 1973 december 28th Info Jade is the newest member of AFI but not new to AFI, infact Jade and his former band Loose Change played on the b-side of AFI's first release Dork! Jade became a member in 1999 right after A Fire Inside EP was released! Jade is also SxE and his favorite record of all time is The Best Of Simon And Garfunkle.








Here's a bunch of favorite quotes by AFI.


A girl in Salt Lake once asked me 'Why are you wearing makep, are you a fag?'. I then said 'Well, if I'm a fag for wearing makeup, you must be a dyke in blue jeans'. I also informed her that she was just angry because I was prettier than she was.-Davey


When asked if he got freaked out when he saw The Ring:
Davey: Yes I did. I was by myself and there was this guy with his girlfriend and a couple of other girls next to me - and they were right next to me, so I was pretty much in his lap the whole time. Luckily for me, he was nice! [

Hhhmmm...Davey in some guys lap?!.....LUCKY GUY!!!

]


Interviewer: If the four of you were stranded on a desert island and you had to resort to cannibalism, who would you eat first?
Davey: Can I eat like nuts and berries and stuff?
Interviewer: It's a desert island, there aren't any nuts or berries.
Davey: Oh so it's like sand or people.
Davey: So basically you want me to eat one of my band mates, and you just expect me to answer that question?
Interviewer: Well that or one of their parts, yeah.
Davey: Probably Adam
Interviewer: Why Adam?
Davey: Well he's a drummer, so he's all lean, if you like lean meat.
Adam: Tender!
Interviewer: Well you wouldn't wanna get fat on a desert island.
Davey: Right.
Adam: I'm the other white meat!
[

Mmmm...Adam meat...coming to a store near you!

]

One Big Dark Room has more quotes from AFI.
...Created by [*Lil Gangsta Mami*]

---



AFI CDs and Vinyl
--------------------------------------------------------------------------------


Sing the Sorrow
released 10 March, 2003
Miseria Cantare--The Beginning - The Leaving Song Pt. II - Bleed Black - Silver and Cold - Dancing Through Sunday - Girl's Not Grey - Death of Seasons - The Great Disappointment - Paper Airplanes (Makeshift Wings) - This Celluloid Dream - The Leaving Song - ...but home is nowhere - Now The World (UK Bonus Track) - Synthesthesia (UK Bonus Track)
--------------------------------------------------------------------------------



The Art of Drowning [vinyl]
released 11 December, 2000
Initiation - Lost Souls - Nephilim - Ever and a Day - Sacrifice Theory - Of Greetings and Goodbyes - Smile - Story at Three - Days of the Phoenix - Catch a Hot One - Wester - 6 to 8 - Despair Factor - Morningstar - Battled
--------------------------------------------------------------------------------


All Hallows Ep
released 04 October, 1999
Fall Children - Halloween - The Boy Who Destroyed The World - Totalimmortal
--------------------------------------------------------------------------------

A Fire Inside
released 01 April, 1999
3 1/2 - Over Exposure - Hanging Garden - Demonomania
--------------------------------------------------------------------------------



Answer to That and Say
released 06 May, 1997
Two of a Kind - Half-Empty Bottle - Yürf Rendenmein - I Wanna Get a Mowhawk (But Mom Won't Let Me Get One) - Brownie Bottom Sundae - Checkered Demon - Cereal Wars - Mother in Me - Rizzo in the Box - Kung-Fu Devil - Your Name Here - Ny-Quil - Don't Make Me Ill - Open Your Eyes - Highschool Football Hero - Self-Pity [#] - Key Lime Pie [#]
--------------------------------------------------------------------------------



Shut Your Mouth and Open Your Eyes
released 24 November, 1997
Keeping Out of Direct Sunlight - Three Reasons - Single Second - ph Low - Let It Be Broke - Third Season - Lower Your Head and Take It in the Body - Coin Return - New Patron Saints and Angels, The - Three Seconds Notice - Salt for Your Wounds - Today's Lesson - Devil Loves You, The - Triple Zero
--------------------------------------------------------------------------------



Very Proud of Ya
released 07 October, 1996
He Who Laughs Last... - File 13 - Wake-Up Call - Cult Status - Perfect Fit - Advances in Modern Technology - Theory of Revolution - This Secret Ninja - Soap Box Derby - Asprin Free - Fishbowl - Charles Atlas - Crop Tub - Consult My Lover - Take the Test - Two of a Kind - Shatty Fatmas - Yürf Rendenmein - Cruise Control - Modern Epic
--------------------------------------------------------------------------------