Page name:
Night Mode - Barbarellas
[Logged in view]
[RSS]
2011-06-14 08:56:44
| | | |
| --- | --- | --- |
| # of watchers: 2 | Fans: 0 | D20: 10 |
Night Mode by Barbarellas
A review by [Mystin]
This is the first music to be produced by twins Edele & Keavy Lynch from B*Witched in over a decade. B*Witched was one of the only irish pop duos to sell over three million records before being released by their label. Lindsay Armaou singed a deal with Clayton and Sinéad O'Carroll now does reality television. Formerly naming their self Ms. Lynch, the twins signed a deal with CEOL Music in 2010 as Barbarellas. A lot of the songs were revamped from those produced as Ms. Lynch. For example, Diet Coke was renamed Night Mode. This album offers a completely different sound than B*Witched. It is a pop album but has a lot of trance or techno sound to a lot of the songs. The albums first release song 'Body Rock' was well received by former B*Witched fans but didn't do too well on the charts. However, after Barbarellas begin performing on many television shows in Great Britain like Lorraine, The Vanessa Show, Studio Five, & other major talk shows word spread about the duo. Many fans showed support of the new modern look of Barabarellas, though some did not calling them a copy-cat of Lady Gaga. The duo expressed those comments as flattering because they feel that being compared to her is an honor. The album offers a lot of songs about sensuality, passion, love, & relationships. The album does offer beautiful ballads also in songs like 'Faith In Me' & 'Kiss From A Ghost'. The album has charted well on itunes and is doing well in Great Britain. If you like music that makes you want to dance, this album is for you. In comparison to sound this album favors the works of Ellie Goulding, Janelle Monae, Mika, Armin Van Buuren, & Tiesto.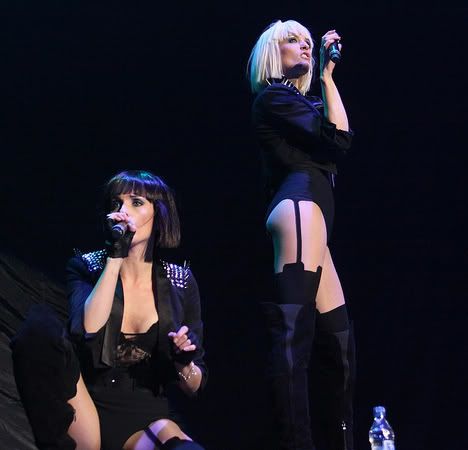 Track Listing
1.) Body Rock

2.) Night Mode

3.) Big

4.) Play Dirty

5.) Could You Ever

6.) Faith In Me

7.) The Idea

8.) Turn Me On

9.) Kiss From A Ghost

10.) Tip It

11.) Do To Me

12.) Smokin'

(Bonus Track) Curve Ball
For more information on Barbarellas please visit: barbarellas.net or http://www.youtube.com/user/barbarellasnet

<URL:http://elftown.com/stuff/09%20-%20Kiss%20From%20A%20Ghost.mp3>
-Kiss From A Ghost

Lindsay Armaou- Clayton Music
http://www.myspace.com/officialclayton/
(<3 'Fighting Man' & 'To Make You Fall In Love')
---