Page name:
Maps and Directions
[Logged in view]
[RSS]
2009-02-25 14:47:42
| | | |
| --- | --- | --- |
| # of watchers: 3 | Fans: 0 | D20: 8 |
Maps and Directions
This map is a work in progess
It will be updated as Covenstead Members
Lay Claim to their homes and start building projects
To Update this map please leave your version below this one
Or ask [moira hawthorne] or myself [LynnAnneBrown] to help you.
To see how it has evolved
Check out Covenstead's Map Archive
My Apologies for the simplicity of this map, but as I have discovered Map Making takes a lot of skill and I'm still learning.
But none the less, it should give you a basic idea of the lay of the land.
Covensteads holdings are the areas marked in darker green and extend a little to the east and west of what is shown on the map. To the North, in the area marked in lighter green is ElfTown Proper. And to the south is the "Lake of Dreams"
The road that marks the the top border of Covenstead is named "Ramblers Way" and leads to ElfTown in the east and unknown adventures in the west.
The streams that surround the center area of Covenstead have yet to be named.
The main area of Building will be in the center area of Covenstead, between the lake and the road to the north and south and the two streams to the east and west.
The lands to east and west will be left wild except for the natural footpaths that I am sure will be worn by those who enjoy more primitive environments.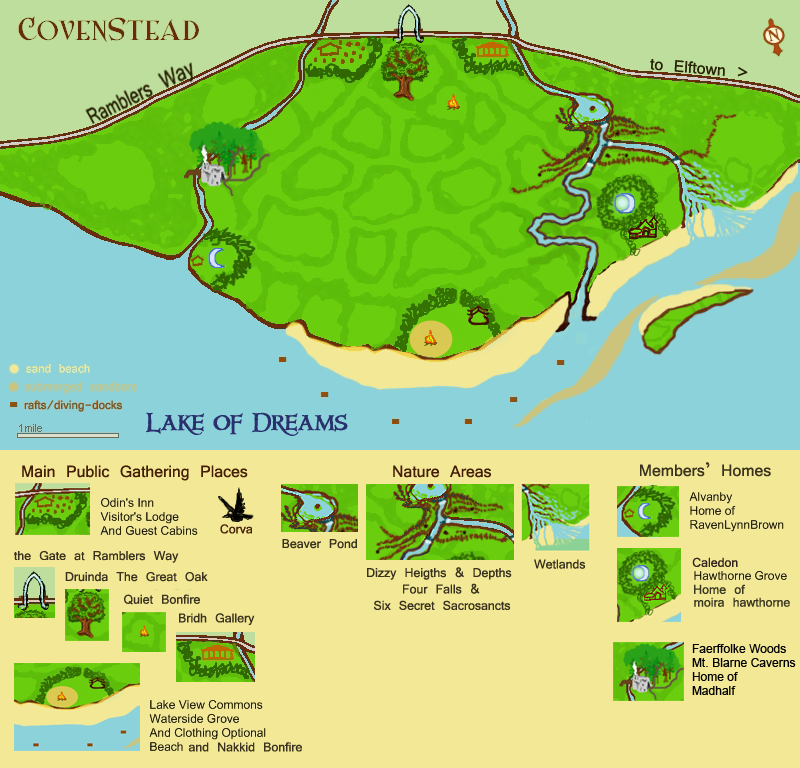 ---
Return to
Covenstead
---
| | |
| --- | --- |
| | Show these comments on your site |