Page name:
Lestat de Lioncourt
[Logged in view]
[RSS]
2008-05-01 21:58:04
| | | |
| --- | --- | --- |
| # of watchers: 8 | Fans: 0 | D20: 10 |
Lestat de Lioncourt
---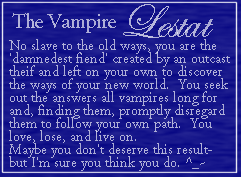 ---
Welcome to the lair of the Brat Prince. I am your hostess, [Artemis Riddle]. Feel at home, take a drink, or find someone to talk to.
---
About Lestat, the Brat Prince!
His estimated year of birth is around 1760, on November 7th. He was given the dark gift at the age of about 20, by Magnus, an ancient vampire who only had two teeth. His family: father, mother (Gabrielle), two brothers living, four of them dead. He is the youngest. He later does the dark trick to his mother Gabrielle and his friend Nicolas L'enfent. In 1791, he travels to New Orleans in the New World and does it on Louis de Pointe du Lac, a few years later the child Claudia, and recently David Talbot.
All that reminds of "rules" he breaks, he is reffered to as the 'brat prince', and a true devil. He can't be alone, and he tends to act before he thinks. Rock star, singer in the band, Satan's Night Out. (However, in the movie, the band is simply referred to as The Vampire Lestat.)

Lover to the queen of the Damned, Akasha, and with the blood from her, and Marius, he is now virtually indestructible, even in sunlight!

He is also the devil's lieutnant, his prince, and he lost his eye once, but the devil, Memnoch, gave it back to him.
(He lost it at the gates of hell.)



Lestat de Lioncourt, the true devil, the Brat prince!
"Tell me how bad I am, it makes me feel good!"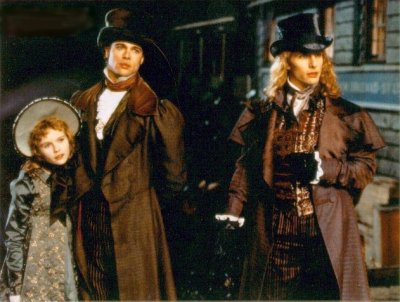 the owner of this page, [
Artemis Riddle
]
List your name below the line, and please, take a number!
---
1. [
the vampire claudia
]
2. [
Phantom's mistress
]
3. [
Fallen Child Athena
]
4. [
Anthrax
]
5. [
dutchess ann
]
6. [
~*Luna*~
]
7. [
Frivalicious
]
8. [
dressedtokill
] A daywalker..an assassin..driv
en by hatred for the criminals of the underworld..
9. [rainbow band-aid taco box]
10. [~noctis lingua~]
11. [xX Doomed Vampire Doll Xx]









---
Some more about the brat prince:
When Lestat was still a human, he ran away form home, to the city of Paris, the capital of France.
He and his friend/lover, Nicolas L'enfent, joined a theatre group.
Nicolas was a passionate vioinist and joined the musicians, while Lestat became an actor (but that was later, first he just worked there, doing different things, it was lucky that he got to show his talent).
He loved the life on the stage, the audience, the exitement. He was playing a character named Lelio. After he was transformed into a vampire, he was able to continue acting for a time. But after an incident in which he deliberately frightened the audience, he decided to support the theatre from afar.
They later went to England, since Lestat was afraid he might hurt any of them.
---
| | |
| --- | --- |
| | Show these comments on your site |