Brought to you by the Council and Assembly
Contest concept presented by [Elandain]
<news:[Elftown Costume Design contest@wiki]>
Crew Favourite (drawing):

By [Fire fae]
All submissions:
Costume Contest Drawings
Costume contest Drawings II
Costume Contest Photos
Congratulations!
Thank you to all that contributed!
Welcome to the Elftown costume design contest. This is not a Halloween contest, but a chance to show your skills at costume design, and/or construction. So, shall we begin?
Theme:
Game costumes! What we want to see: Costumes adapted from, or designed for your favorite game, be it, a role-playing game, a video game, or any other sort of game. Take a photo of, or draw yourself dressed as a Dungeons and Dragons character, or draw a costume for the next Final Fantasy game, or a Gothic horror roleplaying game. It's up to you. Be creative, and have fun!
Rules:
1: As usual, all work must be your own. No matter how much you love someone's costume, or drawing,
you may not enter it for them.
Anyone entering copied or stolen work will have their entry deleted.
2: Photos only, in the photo section, and drawings only in the drawing section. The competitions are separate, so please post entries in the right section.
3: No photomanips. We only want drawings or photos of costumes you design.
4: Any photo of a costume, must have you (the elftowner) in the costume, so we know it is your work. There should also be an additional image of either the half made costume, or a reference photo of yourself, so we can verify the work is your own. (I know this can be a pain, but photos are too easy to steal, and difficult to verify) No photo will be accepted without the additional photo. No exceptions, sorry.
5. 2 entries per member maximum.
Size:
Since the chosen images will be featured on Main Street, we would like to keep them fairly small. Your image should be no wider than 300 pixels and the height should be no more than 500. Be creative but please keep that in mind!
Deadline:
June 30th 2005
How to post it here:
Add your image after the last one that has been already posted. Don't forget to write its title and your user name. For example:
1. "Title" - [
insert user name
]
Note:
Two Images will be chosen by the
Council
and the
Assembly
among all those presented. One winner will be chosen from each category (photos, and drawings).
post art below:
1.
Liana (pirate)- [
do not exist
]
verification photo
the costume made for a D&D character of mine named liana
---
2.
Lady Evalyn (Scottish Free-woman)- [
MoonDuck
]
RPG Character-Onli
ne RPG-Costume made in 2004.


---


3. Matevus (me in costume i made for art it's Squall (ff8) mixed with Cloud (FF7:AC) enjoy)- [Matevus]

---


4.
Shiva from Final Fantasy...Made by [~Altopia~] and [farawaygone]. Especially for you guys.Made from bubble wrap, wrapping paper feathers and sticky tape.Complete with plastic bag bodice.... modelled exclusively by [farawaygone] Enjoy!!!!

Verification:)


---


5. Absynthe la Fée Verte (it's a really stupid joke for those who understand french ;p ) My ranger elf character for my summer RPG Avalon this august. Costume designed and sewed by me, [Seyra]

verification pic took in april 2005


---


6. Medieval times - Two of the costumes I design and made from scratch for a medieval LARP. (I'm sorry for the bad quality... my cam wasn't that good.) [Fire fae]

a)
b)

ref pic
---


7. Knight in Shining Duct Tape - for a comedy-fantasy RP my friends and I did. [Tupile]

making out of duct tape and cardboard
verification


---


8. Witch costume. [Kuruni]




I made it yesterday for another person, for a movie, but i thought it would look good on me before i give it away. My own design and i made it completely except for the boots and dagger, hehe. The robe was for the starwars episode 3 premiere. Is for a AD and D fan movie.


---


9. Darth Zirja - [Talvikki] - my Dark Jedi character for Star Wars RPG - I made the robe way back when Star Wars was still respectable, for Episode I, and the armor for an SFF con last spring. Except for the gloves, bracelets and boots, I made everything (inc. pants and lightsaber) from scratch with some help from my dear mom.


The reference pics are me with just the armor at Balticon '04 and...heh...my bio pic from Elfwood.


---


10. Neko Ninja - [chipmunk01] - I used to RP with this character that I called Shadow, but I decided to make her into a costume this year, A stealth ninja from Lord Gohda's arms, a half cat half humanic character. Kinda does look like cat woman but it isn't! Don't be fooled, her bite is worse then her bark... I had to design every thing except the belt and collar which I had from my brother with. It has hidden runes and such in the pants scuffs.


the reference picture is the day we made the costume, my brother mesuring and my mom at the machine with the belt... Not much to go off of but I scrounged them up!


---


11. Princess Talia- [MoonDuck]


Costume made in 2004.


---


12. Lt. Alex Wolf - [Wa+cher]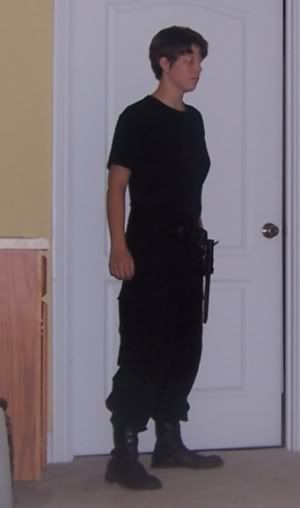 The costume for my Stargate SG-1 RPG Character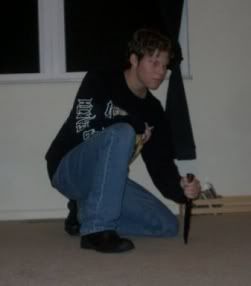 This is the pic from my bio (verification)


---


13. High Elven Ambassador - [Nightshadow]
Original concept. No pre-designed patterns were used. The only thing purchased were the pants and small metal ornaments. (Necklace and on vambraces). Because I hate sewing pants, and Goodwill is handy. XP


The details are the headdress (20-gauge wire + 20-odd hours) and the verification photo respectively.


---


14. [Morniemacar]`s evangelion unit 01


its a bad pic of the costume was taken in a comic convention
is the cheapest costume i`ve made




Go or return to:
- Elftown Costume Design Contest
- Costume Contest Drawings