An Elfish Idea
Characters:
Username:
Character:
Gender:
Race/Species:
Physical:
Personality:
Element:
Occupation:
Weaknesses:
Index
[
#Storyline
]
[
#Good Elementals
]
[
#Evil Elementals
]
[
#Begin the Story
]
---
A high priestess was born, and her elements are to protect her at all costs, especially their life. The servants of the priest (her sworn enemy) are to collect the souls of the elements in shards of a blood stone and give them to the priest who absorbs them to increase his power.
---
Good Elementals
Username:
[
wicked fae mage
]
Character:
Tsuki Starfire
Gender:
Male
Race/Species:
Human/nymph
Physical:
Tsuki is 5'6 and 165 lbs. He has deep blue eyes and blue-black hair as a human.
As a nymph Tsuki looks almost exactly the same save blue palms and padding to his feet, blue fingertips and tips of this toes, a small imp tail, faerie wings and pointed ears.
Personality:
Tsuki is more or less bipolar. He can be serene one moment and furious the next, set off by just about anything. In his good moments, Tsuki is charming, charismatic and loving. At his worst he is stubborn, childish and relentless.
Tsuki was raised an only child and therefore became an introvert. He also grew self-centered and hard to get along with.
Element:
Water
Occupation:
Waiter (I love the irony)
Weaknesses:
Wind
This is Tsuki and Enna (from the original) in their fae and nymp forms
Username:
[
MyAlterEgo
]
Character:
Aeriora Zepher
Gender:
Female
Race/Species:
Human/Kitsune
Physical:
Medium height, about 5'7 or so. She has light colored skin,long black hair, and dark green eyes. She likes to dress in anything gothic, ranging from slutty to innocent, but she's actually not like that in personality.
Personality:
She is quite playful, but painfully shy. She can sometimes be outgoing, and she has an awful temper.
Element:
Wind
Occupation:
Bartender
Weaknesses:
Earth (and spiders)
Username:
[
fredmeister77
]
Character:
Viktor Akardi
Gender:
Male
Race/Species:
Human/Leprecha
un
Physical: As a human, Viktor is around 5' 11". He is also fairly average build, weighing no more than 210 lbs. He is older, at 63, and has a peppered mixture of white and gray coloring his hair.
He has a full mustache and beard, which is kept trim, and short-medium length hair, very unkempt. His face doesn't show his age however, with no wrinkles he would appear much younger if it weren't
for his hair. He also always wears a pair of oval framed glasses over his piercing green eyes.

As a Leprechaun, he is much shorter, reaching only 2' 6". He looks very similar to his human form otherwise.

Personality: Viktor is a very clever and contemplative man, though he has a constant glint of mischief in his eye, and a wry smirk can usually be found on his face. He is, on first impression very
quiet and polite; He can be often found smoking his pipe in deep thought. He talks very smoothly and eloquently, choosing his words carefully. But he has a mischievous streak which often manifests
itself in his leprechaun form; A deep urge for chaos that he keeps under wraps. While he does not like to see lasting harm or damage come to anyone, he does thrive on the unexpected and wildly changing events.
Element: Dark
Occupation: Diplomat
Weaknesses: Light


Username: [*Phoenix*]
Character: Aphrodítē Blade
Gender: Female
Age: 25
Race/Species: human with elfish grace
Physical:
Personality: She's emotionally strong because of her hard past. She doesn't like to talk about it but will open up to a few select friends. She is joyful and always puts others first even if that means she has to suffer.
Physical description: Tall and slender. Red-orange eyes that match her Phoenix spirit. Long, flowing red hair with orange highlights. She wears are orange gemstone around her neck that cages her Phoenix spirit when in human mode and vise versa.
Element: Spirit
Occupation: Artist and Gallery Owner
Weaknesses: fatigue: she changes into a squirrel
She changes into a Phoenix spirit, but can also control other spirits. Her greatest companion spirit who can talk to her in human form is a dragon named Shadow.




Username: [Ravendust]
Name: Enna Lockharte
Race: Human/fae
Age: 20
Personality: Sweet, kind, caring. Enna can have a fiery temper when forced into it but generally she's got a calm nature.
Physical description: Enna stands at about 5'5", she's got flowing red hair that she generally keeps tied in a braid. She has brilliant green eyes and a fair complexion.
Profession: owns a small bookstore called Pages Past. She is studying to further her passions on her own.
Element: Fire
I wanted to show what Enna looked like... :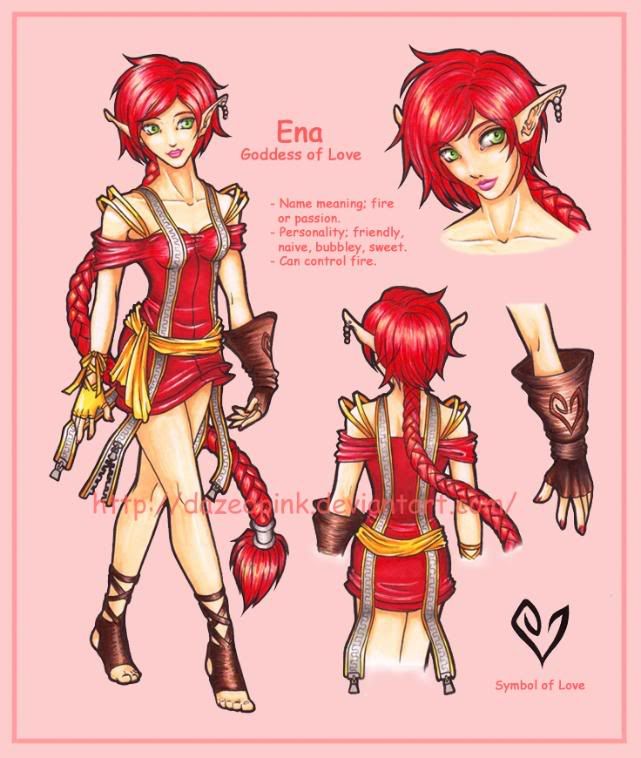 Username: [The Last Dragoon]
Character: Jaren Cix
Gender: Male
Race/Species: Human/Demon
Physical: As a human he stands 6 foot 3, has platinum blond hair and cobalt blue eyes, a medium build and light tan. He wears a black leather jacket with no sleeves and a green tank top, brown jeans and black work boots. In demon form he is a large white tiger with lightning bolt shaped stripes , and bristling spiky fur that continually sparks faintly when he's calm and the intensity increases as his anger builds.
Personality: a loner and often keep his wits about him on or off duty, tries to refrain from using his abilities unless there is no choice.
Element: Lightning
Occupation: Bouncer
Weaknesses: Water


---
Evil Elemtentals

Username: [*Phoenix*]
Character: Hikaru Shadowbound
Gender: Male
Age: 210
Race/Species: dark elf
Physical: Long black hair tied back at the base of his neck and emotional onyx eyes, he's pale and stands about about 6' even and has an almost feminine build to his figure.
Personality: feisty and easily brought to anger
Element: dark fire
Occupation: guardian of the black priest
Weaknesses: damsels in distress; (light) water




Username: [MyAlterEgo]
Character: Kalix Rhor
Gender: Male
Race/Species: Human
Physical: He's fairly tall, about 6'3, with a decent muscular build. He has shaggy brown hair, and deep blue eyes. Hes also pretty pale.
Personality: He's quiet most of the time, with the air of someone thats always plotting something. He can be quite kind sometimes, but can also be the opposite. No one knows much about him, and he's not eager to give anything away.
Element: Spirit (unknown to everyone at the moment)
Occupation: Bounty hunter
Weaknesses: people with strong emotions


Username: [wicked fae mage]
Character: Rime Kaze (Combining Jin and Touya)
Gender: Male
Race/Species: Snow Elf (merely means he is from the mountains and tundras)
Physical: Rime has long silver-white hair and piercing blue eyes. He is lithe and short, very light on his feet. He covers his elven ears with his hair to better blend in with human society, though his blue lips, hands, feet and ears are a still a slight give away with their miscoloring of icy blue.
Personality: Rime does whatever it takes to get his way, ruthlessness being his middle name, though he expects no mercy in return. He has his own honor code, but his needs come first and he needs to absorb the water element to display no weaknesses
Element: Ice
Occupation: Soul Hunter
Weaknesses: Fire


---
An Elfish Idea 1