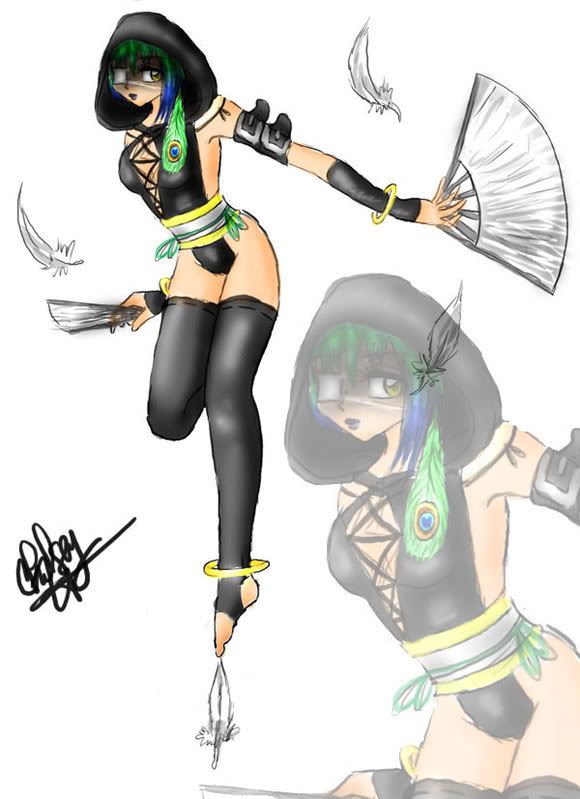 NAME: Akane Tokushima
JUTSU: Wind Natured. Though she uses hand-to-hand combat as well.
Attacks: Feather Fury, Avas Airwave, Barbed Cyclone
AGE: 14
DESCRIPTION OF BODY (BUILD, HEIGHT, UNIQUE FEATURES, ETC.): She is lightweight, an assist from her abilities. She is fit and has average sized hips with B-cup breasts. She wears lightweight clothing to make manipulating wind easier. She keeps her forehead protector around her neck like a loose bandanna.
HAIR COLOR AND STYLE: Short and light green that fades to blue tips. She wears a peacock's feather in her hair as well.
EYE COLOR: Golden yellow
VILLAGE: The Village of Quills; A secretive village in an Amazon-like jungle. Villagers don't often leave their residence other then to explore the jungle. They are very respectful and practically worship their feathered friends.
HISTORY: Akane's father was one of a masters of the Village of Quills and has trained her since she was young. He was quite strict on her, wishing for young Akane to be more successful then even he. Akane's father saw her not as a daughter, but as a replacement for himself. He wanted her to become what he was never good enough to be. Her mother, on the other hand, wished for her to grow up a normal young lady.
ANY SERIOUS PHYSICAL OR MENTAL CONDITIONS: Has one eye.
HOBBIES: Being off on her own in the jungle. She seems to have a deep connection with birds. While training under her father, Akane would often find herself making bird comrades more then other people in the village.
PERSONALITY: Akane is quick to the point and highly opinionated. She is a loudmouth and it often gets her into trouble. At times she can come off as rude, but for the most part, means well. Akane has high spirits and a loud laugh that outweighs most others.
ANY PETS: A male peacock.
OTHER: Akane is barefoot to assist in her techniques. She tries to limit how much of her body is touching the ground, if at all by bending the air currents and wind around her.
WEAKNESSES: Due to her lack of shoes, Akane has more trouble in dangerous terrain then in her home village that is paved in leaves and grass. Anything that she cannot shift away using wind is highly dangerous. This includes things that are too heavy.